Dry weather dominated October, which led to drought expansion and intensification. Our average temperatures were near normal, balanced by warmer days and a few cool nights.
Precipitation Passes Us By
Rain last month was as rare as full-sized candy bars on Halloween night, which made it a dry month overall. Preliminary data from the National Centers for Environmental Information (NCEI) shows a statewide average precipitation of 1.15 inches, which ranks as our 10th-driest October since 1895. It was also our driest October since 2000, which had a record low 0.08 inches of rain on average across the state.
Many sites measured less than an inch of rain all of last month, especially in the southern Mountains and Foothills. Asheville had 0.70 inches and its 10th-driest October in the past 72 years. For Marion, the 0.64 inches ranked as its 11th-driest October since 1893. And Lake Lure had only 0.59 inches and its 5th-driest October out of 57 years with observations.
In the wake of Tropical Storm Ophelia in late September, the Coastal Plain also dried out in October, with monthly totals of just 0.43 inches in Washington – its 5th-driest October in 89 years – and 0.58 inches in Kinston, where it was the 3rd-driest October on record, behind only the rain-free months in both 2000 and 2001.
In general, the lack of precipitation was due to both quality and quantity – or the lack thereof. A series of broad high pressure systems dominated our weather during the month, only interrupted by cold fronts with dry, continental origins that brought limited rainfall as they crossed the state.
Even at relatively wetter sites such as Raleigh, which had 2.16 inches all month and was 1.21 inches below normal, there were only four days with measurable rainfall, and only one with at least half an inch. That was on October 14, when low pressure off the coast funneled in moisture and yielded daily totals of an inch or more across parts of the Piedmont.
Our other precipitation events were decidedly stingier, including the showers on Halloween that were more of a trick than a treat. Accumulations amounted to no more than a tenth of an inch, which brought little relief for the emerging drought conditions.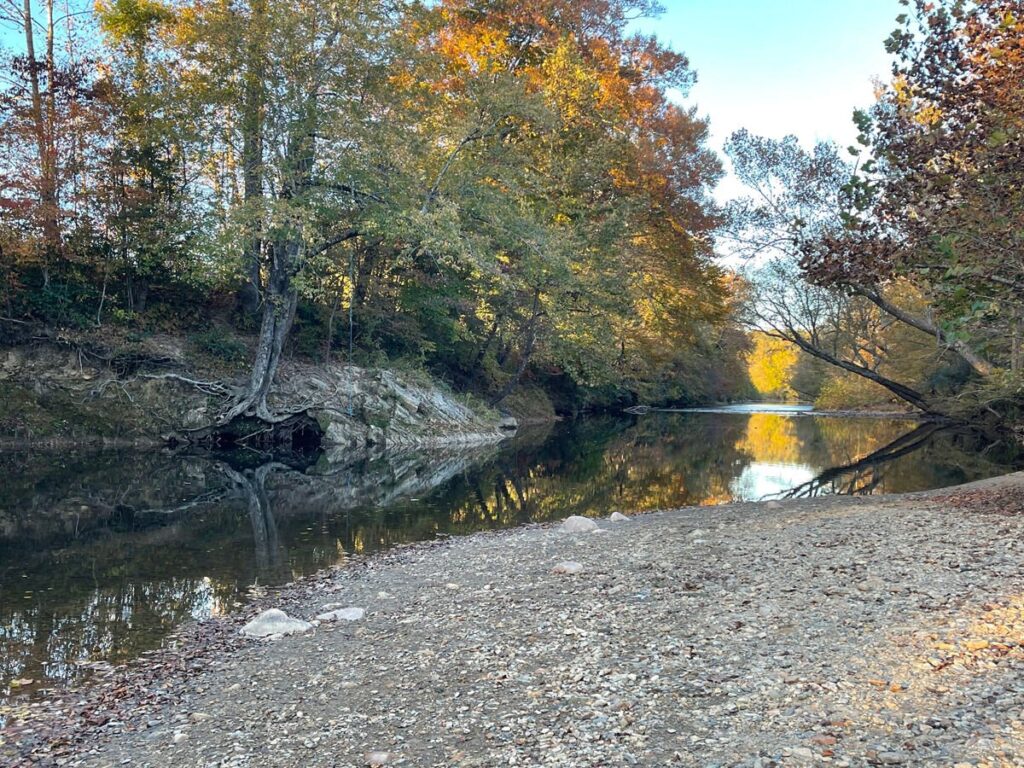 Another Fall Drought Takes Hold
On the latest US Drought Monitor map, X% of the state is classified in Moderate (D1) or Severe Drought (D2). That's our greatest areal coverage since mid-January in 2022, which was at the end of another drought that first emerged in the fall.
This is the third fall in a row in which we've had Severe Drought in North Carolina. While each event has been slightly different in terms of its timing, impacts, and geographic area, there are some similarities that could give us clues about what the current drought might mean this month and beyond.
The 2021 drought initially emerged in eastern North Carolina in late October, but it expanded westward and degraded in November, which had less than an inch of rain on average statewide. Last year, the dryness peaked in October, with pockets of drought in all three regions of the state by early November.
This year's drought has its roots in early to mid September, when our current dry pattern began, at least in southern and western areas that missed the heaviest rains from Ophelia. In October, what started as two highly localized areas of Moderate Drought centered on Anson and Henderson counties quickly expanded, and drought now covers almost the entire Mountain and Piedmont regions.
Charlotte was slightly drier last October compared to this one – 0.71 inches then vs. 0.98 inches now – but is off to a much drier start to the climatological fall this year (1.86 inches) than last year (5.59 inches). In fact, the last time September and October combined were this dry in the Queen City was back in 1961.
In the southern Mountains, where Severe Drought has emerged in recent weeks, a few local municipalities and water systems have recommended voluntary water conservation. Those include the city of Hendersonville – which had just 0.60 inches of rain last month and its 9th-driest October dating back to 1898 – and the Polk County town of Tryon, where only 0.86 inches of rain fell last month, and the deficit this fall is now more than 8 inches.

Widespread water restrictions haven't been implemented during our past two fall droughts, in part because water demands for irrigation and other outdoor uses are lower at this time of year, and also because winter typically brings recharge and recovery to water supplies. But until the rain returns, other local systems could continue recommending conservation or reduced water use.
Because of their emergence toward the end of the growing season, these three consecutive fall droughts had fewer impacts to agriculture. However, some crops such as cotton and soybeans are still being harvested, and some farmers may have to worry about pods shattering due to the low moisture content in the plants.
Wildfires are often a concern during fall drought events, as dry days combined with the climatologically lower humidity levels at this time of year can sap moisture from vegetation, and the leaf drop adds even more dry, dead fuels to the landscape.
In 2021, the fall fire season included a notable fire on Pilot Mountain, while last year saw a handful of large fires including the Hurricane Ridge blaze in Haywood County in November. We may have seen the first sparks of this fall fire season in late October. In Cherokee County, the Collett Ridge fire started from a lightning strike on October 23, and has since burned 90 acres.
As for drought's demise, the 2021 event finally eroded in January 2022 thanks to cool, wet, and even icy weather across the state. Last year, it took the remnants of Hurricane Nicole in mid-November and a series of rain events in late November and early December for drought to disappear in the west.
Unlike the past two years, in which we escaped from drought despite the typically drier La Niña pattern, we're entering an El Niño this winter, which offers more hope for sustained wetter weather that could reverse the current drying trend and eliminate our fall precipitation deficits.
In our annual winter outlook blog post, which will be released on November 15, we will have a more detailed look at this El Niño, including what those winters have historically looked like for North Carolina, when the pattern change could occur, and what to watch for this winter.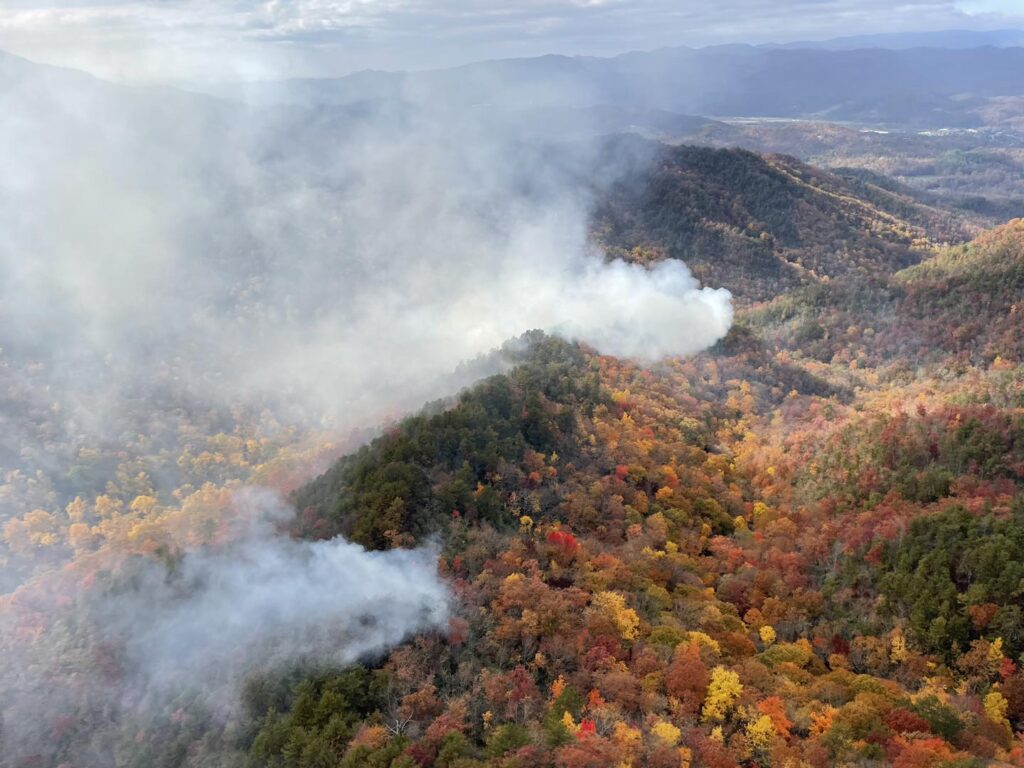 Fall-Like Temperatures Continue
October was largely a seasonable month, but with a few warm days and nippy nights mixed in. NCEI's preliminary data shows a statewide average temperature of 60.4°F, which equaled the recent 30-year average and ranked as our 54th-warmest October out of the past 129 years.
We finished the month the same way we started it: with a stretch of afternoons in the 80s. Charlotte climbed as high as 85°F on October 2, and it finished the month with 13 days in the 80s, tied for the 8th-most in any October on record there.
Later in the month on October 28, the mercury hit 86°F in Raleigh, which was its latest occurrence of temperatures that warm since November 1, 2004. The following day, Mount Airy topped out at 85°F; its last October day that warm was during our fall heat wave in October 2019.
In between those two warmer spells, we had some cooler weather mixed in. On October 8, high-elevation sites including Grandfather Mountain and Mount Mitchell had their first sub-freezing morning of the year, which was roughly on time compared to their historical average first freeze dates.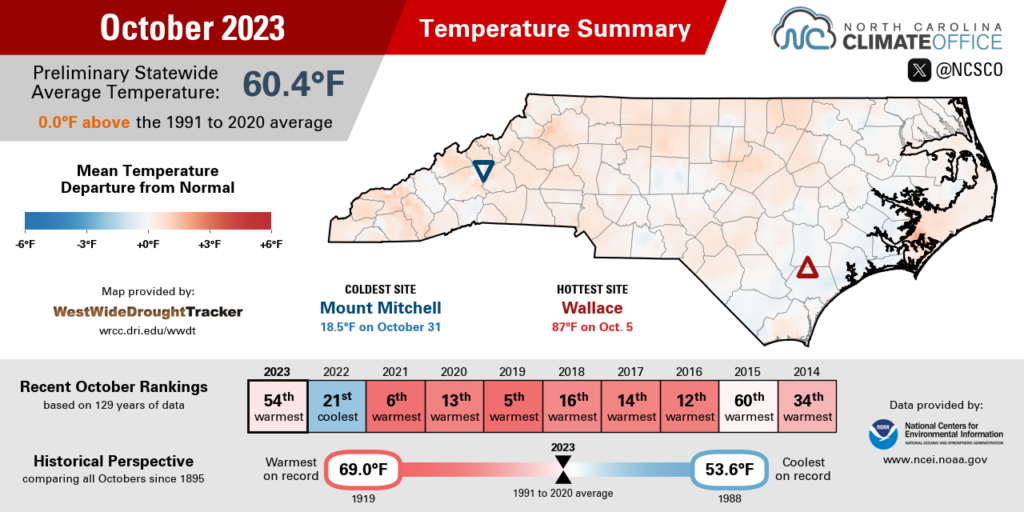 On October 24, lows in the mid-30s produced patchy frost across the western half of the state. And in the final hours of the month, the coldest air of the season so far rolled into the Mountains behind a cold front, with Mount Mitchell falling to 18.5°F by midnight on November 1.
Those sunny days and cooler nights helped spur along the leaf color change, which is now past the peak at elevations above 3,000 feet – including Boone – and currently at the peak between 1,500 and 2,500 feet, including in Asheville, according to Dr. Howard Neufeld at Appalachian State.
The changeover should continue across the state in November, as long as drought-stressed trees don't drop their leaves early to conserve moisture. And as this post goes out, many areas are feeling their first sub-freezing temperatures of the season, with upper 20s and low 30s being observed on Thursday, November 2.
While our recent warmth was a reminder of summer, the falling leaves and falling temperatures are signs that even fall is now fleeting and winter is on the way.