Short-lived but not short on moisture, Tropical Storm Ophelia snuck up to the coast on Friday and made for a wet and windy start to the weekend across eastern North Carolina.
Ophelia was not the product of a tropical wave crossing the Atlantic, as we typically see this time of year. Instead, it was the evolution of an area of low pressure that formed along a stalled frontal boundary off the coast of Florida, over the warm waters of the Gulf Stream.
That climatologically unusual origin, along with its rapid development and move onshore, made it a tricky storm to forecast and a surprisingly hard hit upon arrival.
Fast Formation
To be or not to be (a named storm): that was the question surrounding the system late last week.
After spending a day in limbo as "Potential Tropical Cyclone 16", the National Hurricane Center noted by midday on Friday that the storm had a well-defined and deepening center of circulation ringed by convection, or thunderstorm activity.
With maximum sustained winds of 52 mph, it fit the criteria of a tropical storm and was given the name Ophelia. By then, rain was already falling across far eastern North Carolina as the storm moved due north toward our coastline.
Less than 24 hours after its initial classification as a tropical storm, Ophelia made landfall on Emerald Isle around 6:15 am on Saturday, with sustained winds of 70 mph, or pushing hurricane strength.
Ophelia was the first named storm to make landfall in North Carolina since Hurricane Isaias in August 2020. Of course, even without any storms reaching us via our coastline over the three years since then, we have still seen plenty of impactful remnant systems moving through or passing just offshore, including Fred in 2021, Ian and Nicole last year, and Idalia last month.
Concentrated Coastal Impacts
Ophelia's primary impact was two days of drenching rainfall across the northeastern Piedmont and Coastal Plain. The highest amounts were along the track of the center of the storm, roughly along US Highway 17 between New Bern and Greenville, where CoCoRaHS observers reported totals of more than six inches.
That rainfall sent some streams, including Green Mill Run in Greenville, into flood stage, while standing water and fallen trees made some roads inaccessible in Craven, Pitt, and Beaufort counties.
As with Idalia, the cutoff was sharp between areas receiving heavy rain and those receiving little. Along a 50-mile stretch of Interstate 40, totals varied from 2.81 inches in Raleigh to just 0.73 inches in Burlington. Poetically, also missing Ophelia was Hamlet – the Sandhills town, that is – which had only 0.40 inches.
Since the storm continued strengthening up until it made landfall, it was also a formidable wind event. Gusts of 67 miles per hour were observed in Beaufort and Cherry Point, and in nearby Cape Lookout Bight, the wind-whipped seas prompted the Coast Guard to rescue five people from a sailing vessel on Friday night.
As a result of the tropical storm-force gusts throughout the Coastal Plain, Duke Energy reported about 23,000 electrical customers in North Carolina without power on Saturday morning.
The winds also pushed a storm surge onshore, both on the oceanside and along the sounds and up our major rivers. The National Weather Service expected a maximum surge of 4 to 6 feet along the lower Neuse and Pamlico rivers, and towns including New Bern and Washington were inundated, with roads and parks under water.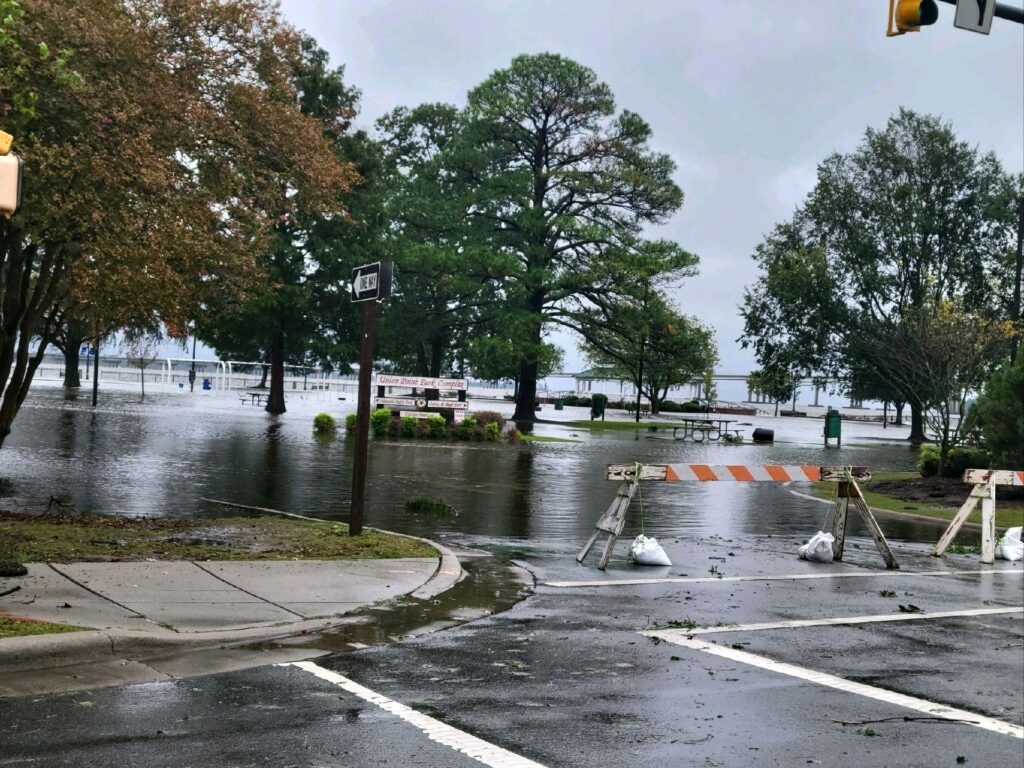 A Stormy Month, Act 2
With apologies to Shakespeare and his literary heroine of the same name, this performance by Ophelia was met with mixed reviews.
The rain was a relief for drought-affected areas such as the northeastern corner of the state. Elizabeth City received 3.22 inches from Ophelia, which nearly cut its three-month precipitation deficit in half. The downside there was the surge along the Albemarle Sound that caused localized flooding.
In other spots, Ophelia brought more moisture where it wasn't necessarily needed. Streams across the southern Coastal Plain had held steady since Idalia, and some in the lower Cape Fear and Waccamaw River basin are running above normal over the past 28 days.
On top of the rain from Idalia in southeastern North Carolina, Ophelia capped off a wet four-week stretch in many eastern areas. Our ECONet station in Clinton has had 9.83 inches over the past 30 days, which is its wettest stretch at this time of year since 2018, when it recorded 18.42 inches mainly from Hurricane Florence.
Cedar Island picked up 3.55 inches from Ophelia and recorded 18.54 inches between August 25 and September 23. That's the wettest this 30-day period has been there dating back to 1955, surpassing the 18.49 inches over the same date range in 1999, which included hurricanes Dennis and Floyd.
The fast development and sudden onset of impacts from Ophelia stand in stark contrast to the 2005 storm of the same name. That September, Hurricane Ophelia looped off the Southeast coastline for more than a week, bringing a steady onslaught of rain, wind and surge along our central coastline.
While their delivery was different, the ultimate impact from each Ophelia in North Carolina was quite similar. The 2023 edition – with a landfall just hours after the start of astronomical fall – wasn't exactly a midsummer night's dream, and instead, it was quite the tempest along our coast.