Hello weather fans, we all have our eyes on Hurricane Lee. As of Thursday afternoon, its current speed is at 13 kt and gaining speed. This hurricane at one point was a beauty freshly painted for all our eyes to see. It has been a long journey for Lee, and it's still chucking away. It became a tropical depression on September 5th, at 35mph. With max wind speeds Sept 8th, 165 mph and pressure 926 mb.
Hurricane Lee will not directly impact the East Coast; however, it will stir up high rip currents along the East Coast for the next couple of days. Due to its expanding wind field, it will increase rip currents. Significant rip currents for the northeast will be Cape Cod, New England, and Maine. As Hurricane Lee makes its way up the East Coast, it will enter an area of cooler water, which will allow it to weaken and prevent wind speeds from increasing. However, the wind field will continue to expand, allowing certain areas to feel Lee's wind. A southerly wind shear will weaken Lee Friday afternoon. Hurricane Lee is west of a subtropical ridge and advancing northwest of Bermuda. A slight mid-level ridge will form and help keep it on a northward path, and a ridge will also form in the mid-Atlantic. The upper-level trough will keep Hurricane Lee from making landfall and keeping it well offshore. A Trough can help or block storms from making an impact.
The timing of the upper-level trough will decide where the hurricane will track. The upper-level trough will keep Hurricane Lee from making landfall and keeping it well offshore. A trough can help block storms or aid them. Multiple ensembles have the hurricane moving further towards Nova Scotia and others towards the northeast and New England. The Upper-level trough looks to move north by Friday before Lee arrives, allowing Lee to potentially pivot west. Depending on Lee's position, and speed, it could pivot west if slowed down by Friday night. Lee's center should pass through either Nova Scotia or Maine by early Sunday morning.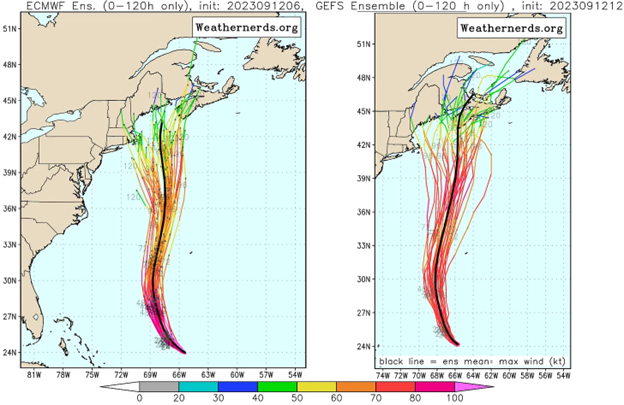 A reason why hurricane Lee can have such a long life and expand upward is due to the extremely high SST, a weak Tutt and weak shear. A TUTT a Tropical Upper Tropospheric Trough is a high upper atmospheric trough and increases wind shear. It is semi-permanent and exists in the North Atlantic, South Atlantic, North Pacific and South Pacific. That exists solely in the upper levels of the atmosphere. This Tutt has been weaker, allowing Lee to keep its strength. When wind shear is weakened, you can look for hurricanes to strengthen.
Friday night into Saturday morning, Hurricane Lee will still maintain hurricane category 1 status. Throughout the day on Saturday, it will decrease into a tropical storm. As the Hurricane advances forward to the Gulf of Maine on Saturday, it will produce strong and gusty winds. For Cape Cod, New England, and Maine, we can expect a consistent northeast flow to dominate the region from morning to sunset. Late Friday and early Saturday morning, Lee will combine with a stationary front. Which will help it briefly move westerly with surface high pressure moving over the mid-Atlantic. By this time, it will be more of a nor Easter, and lose its eye. Winds will be in the upper 30s by Friday, with gusts in the 40s. As we enter Saturday morning, winds will be NW in the upper 40s with gusts near 50 kts.
In conclusion, Hurricane Lee is set to bring strong winds to the northeast due to its large, expanding wind field. The northeast will see no impactful rain. Lee is too far offshore. We can look for pressure gradients to tighten, allowing gusty and breezy winds along with moderate rip currents and peak surge up to 3 feet for Saturday and Sunday. When all gets done with Lee, we still have a few more hurricanes to keep an eye on.