Hot weather carried over into August, and also featured many dry days until Idalia's arrival. When we did have rain, it often came from severe and damaging thunderstorms throughout the month.
Heat Holds Steady
After summer started in earnest in July, it hit high gear in August with persistent heat throughout the month. The National Centers for Environmental Information (NCEI) reports a preliminary statewide average temperature of 77.4°F in our 20th-warmest August out of the past 129 years.
The heat spanned all three regions of the state, as it was tied for the 4th-warmest August on record in Kinston, the 5th-warmest in New Bern and Raleigh, and tied for the sixth-warmest in Asheville. Charlotte finished tied for its 14th-warmest August on record.
The month featured 22 days with temperatures at or above 90°F in Raleigh – tied for the 4th-most in any August there since 1887, and the most since 2016. That included a brutal mid-month stretch of 11 consecutive days reaching the 90s.
The heat peaked on August 15 as high pressure overhead put us under a sweltering air mass. Raleigh topped out at 100°F for the first time since July 7, 2022, and for Greenville it was the first 100-degree day since July 3, 2019. Triple-digit temperatures were also observed in Wilson, Smithfield, and our Sandhills ECONet stations in Lilesville and Hamlet.
On the Outer Banks, our station at Jockeys Ridge State Park hit 99°F that day as southwesterly winds pushed in air warmed over the sand dunes. The heat index there hit as high as 126.7°F, and it also exceeded 120°F at our near-coastal stations in Aurora (125.4°F) and Plymouth (122.9°F).
Late in the month, high pressure returned across the region and so did the extreme heat. Even the southern Mountains climbed into the 90s, including a high of 94°F in Asheville on August 25: the hottest day there since July 1, 2012.
The following day, Charlotte had its hottest day of the year with a high of 97°F, while our Lilesville station topped out at 102°F, which was its warmest reading since July 2012.
| Weather Station | Highest Temperature in Aug. 2023 | Warmest Day Since |
| --- | --- | --- |
| Manteo Airport | 96°F (Aug. 16 and 20) | July 30, 2022 |
| Charlotte Douglas Airport | 97°F (August 26) | July 28, 2022 |
| Raleigh Durham Airport | 100°F (August 15) | July 7, 2022 |
| Wilson 3 SW | 100°F (Aug. 15 and 16) | July 6, 2022 |
| Mount Mitchell | 77°F (August 27) | June 23, 2022 |
| Elizabeth City Coast Guard Air Stn | 98°F (Aug. 13 and 15) | July 28, 2020 |
| Greenville | 100°F (August 15) | July 3, 2019 |
| Lumberton | 100°F (Aug. 15 and 16) | May 29, 2019 |
| Washington WWTP 4W | 99°F (August 13) | June 16, 2015 |
| Anson Peaking Plant (Lilesville) | 102°F (August 26) | July 8, 2012 |
| Asheville Airport | 94°F (August 25) | July 1, 2012 |
The monthly maximum temperatures for select stations in August 2023.
Dry Days Ended by Idalia
Late-month rain from Idalia pushed some southern and eastern sites above their normal precipitation, while it remained drier than normal in the north and west. It averaged out to be slightly wetter than normal statewide, as NCEI reports the preliminary average precipitation of 5.83 inches and our 43rd-wettest August since 1895.
Following minor rain events associated with cold frontal passages on August 7 and 10, we entered a stretch of dry days that, combined with the heat, led to drought emergence in the southern Piedmont and central Coastal Plain.
Over the two weeks between August 11 and 26, Raleigh and Hickory each received only 0.04 inches of rain. At the coast, Bayboro had only 0.11 inches during that same period as drought emerged locally.
Rain returned in the final days of the month, with scattered showers on August 28 and 29, followed by Tropical Storm Idalia on August 30 and 31. Storm totals included 5.57 inches in Wilmington, 7.44 inches in Beaufort, and 8.51 inches in Ocracoke.
At Hatteras, the 7.29 inches from Idalia was the most rain in a two-day period since October 27-28, 2012, when Hurricane Sandy passed offshore. That helped make it the 15th-wettest August locally since 1893.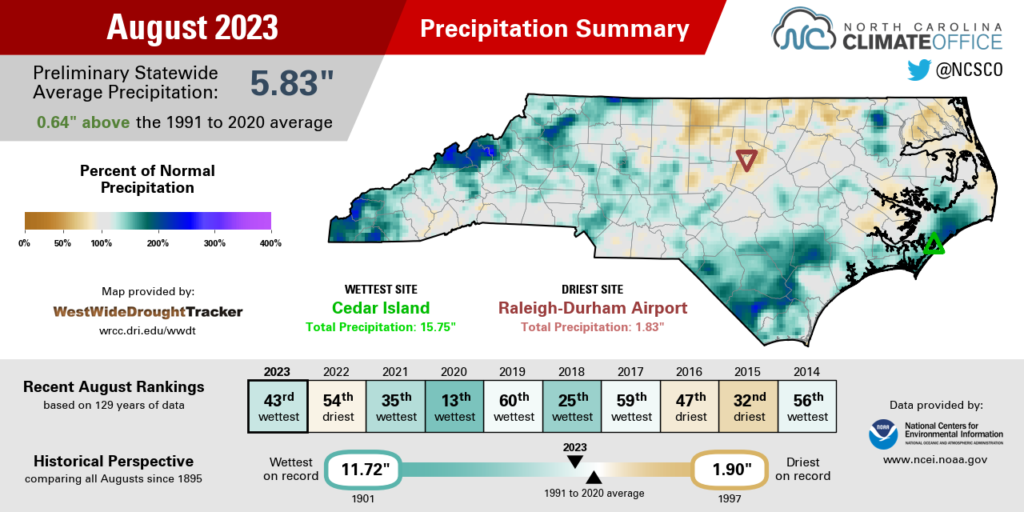 Elsewhere in eastern North Carolina, it was the 19th-wettest August in Greenville, the 20th-wettest for Williamston, and the 23rd-wettest based on 112 years of observations in Lumberton.
For some sites, even Idalia's rain wasn't enough to fully overcome the dry start to the month. New Bern finished with its 28th-driest August in the past 70 years, 1.31 inches below normal. Raleigh, which had less than half an inch from the tropical storm, had only 1.83 inches all month and tied for its 17th-driest August on record.
Idalia's rain should help improve some of the Abnormally Dry (D0) conditions and Moderate Drought (D1) when the updated US Drought Monitor map is released on September 7. However, the storm wasn't a total drought-buster, as a few dry areas remain that saw little to no relief during the last week of August.
Those spots include our northern tier of counties in the Piedmont and Coastal Plain. Roanoke Rapids had its 12th-driest August in 50 years, with only 2.15 inches of rain in total. Elizabeth City just wrapped up its 10th-driest summer on record, nearly 6 inches below its normal precipitation from June through August.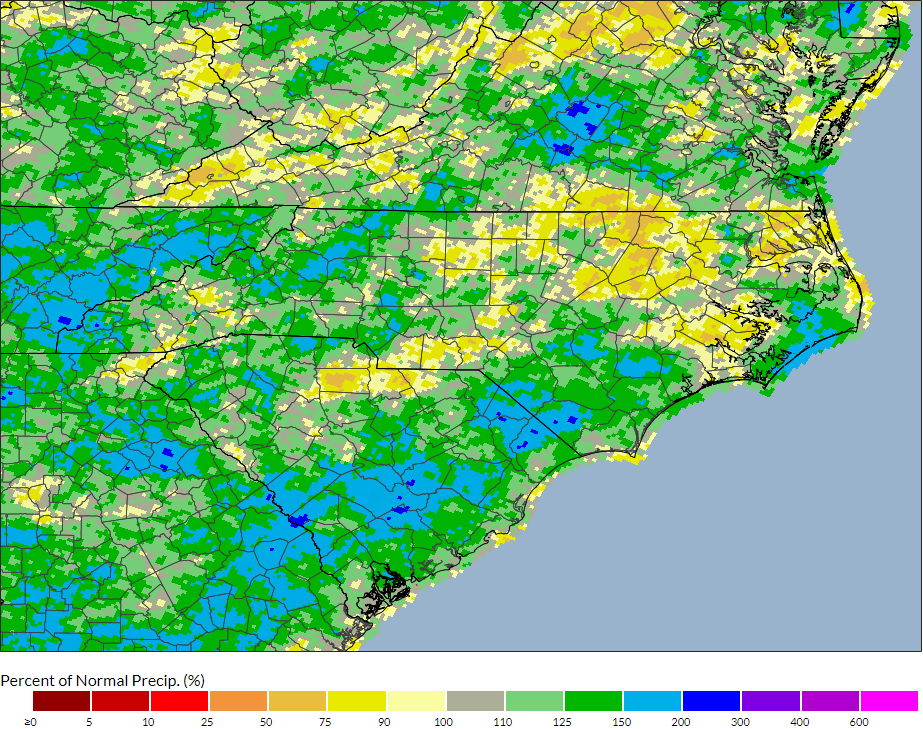 Damaging Storms Across the State
After our state's first recorded EF3 tornado in the month of July, that stormy weather carried over to August, and it covered all corners of the state.
It started in the west on August 7, when an EF1 tornado touched down in Yancey County, then tracked for almost five miles into Mitchell County, toppling trees along its path. Based on the Storm Prediction Center's records dating back to 1950, this was the first ever tornado in Mitchell County.
Later that day, another EF1 tornado developed in the western Piedmont, taking an impressively long 37-mile track through Catawba, Iredell, and Rowan counties, including across Lake Norman. An additional EF0 was confirmed that day just south of the lake in Huntersville.
Just before 1 am on August 15, another EF1 tornado hit north of Beech Mountain in Avery County, which was only its second tornado since 1950 and the first since 1965.
At the end of the month, Tropical Storm Idalia spawned a trio of tornadoes along our southern coast, including an EF1 in New Hanover County and both an EF0 and an EF1 in Brunswick County.
Those seven total tornadoes in North Carolina are tied for the fifth-most in any August, and the most since the 13 in 2020, which included an outbreak associated with Hurricane Isaias.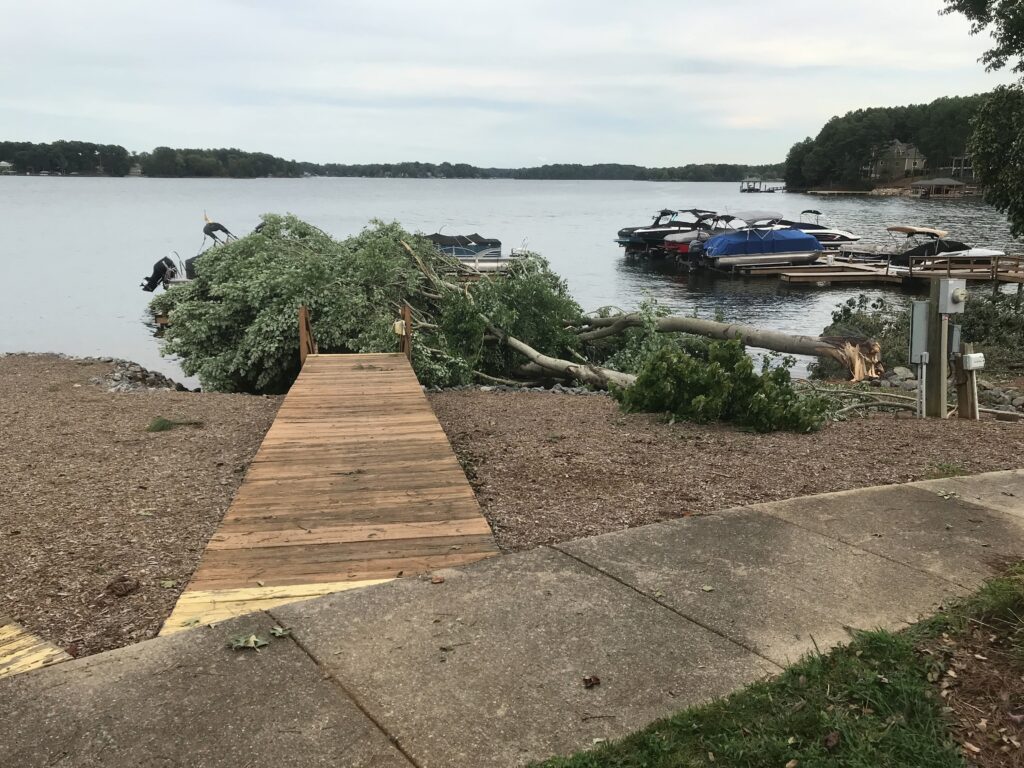 But tornadoes weren't the only thunderstorm hazards last month. The same cell that spawned the August 7 tornado in Catawba County also produced straight-line winds estimated at 80 mph, which toppled trees and power lines, and damaged a building at the Hickory American Legion Fairgrounds.
And on August 15, just hours after temperatures topped out near 100 degrees, strong storms produced golf ball-sized hail in the Triad and damaging winds in the Triangle. More than 50,000 Duke Energy customers in Durham County were without power, and one person was killed when a tree fell on her car.
This spate of recent storms, including Idalia, is a good reminder to make sure your home is ready for severe weather. The National Weather Service recommends trimming back nearby trees and branches, and identifying a basement or interior room with no windows where you can take shelter if needed.
If storms do affect you and you need to weather a few days without power, as some across the state did last month, it's also a good idea to have emergency supplies on hand, including flashlights, chargers or power banks for cell phones, bottled water and non-perishable food items, and basic tools and first-aid items.