The first tropical storm of the season to affect North Carolina lashed the southeastern part of the state with rain and wind, but apparently caused minimal overall damage and benefitted areas that slipped into drought during a hot, dry August.
Idalia formed in the Gulf of Mexico on Sunday and reached hurricane strength early on Tuesday morning. Just 24 hours later, it was a strong Category-3 storm barreling toward the Big Bend region of Florida.
Its track and landfall location were somewhere in between Ian's last year and Michael's back in October 2018. All three storms hit the coast of Florida as major hurricanes and continued northward to impact the Carolinas.
In the case of Idalia, we avoided more significant or widespread damage thanks to a helping hand from another weather system. A cold front moving in from the northwest on Wednesday pushed Idalia to the east and kept the worst of its winds offshore.
Compared with Ian last year, which resulted in more than 360,000 power outages across the state, there were fewer than 33,000 outages after Idalia on Thursday morning, primarily across the southern and central Coastal Plain.
Unsurprisingly, that's where the heaviest rain and highest winds were concentrated. Tropical storm-force wind gusts of at least 39 mph were observed as far inland as Greensboro, with the strongest gusts of 53 mph measured in Jacksonville and Cherry Point.
Rain was mostly confined to the Coastal Plain since the approaching frontal boundary prevented the storm and its precipitation from infiltrating too far inland. The Triad had no measurable rain over the past two days, and only half an inch to an inch fell across the Triangle, including 0.45 inches at the Raleigh-Durham Airport.
For areas that saw rain, some impressive totals fell in a short period of time. In just over 24 hours, the storm produced more than 5 inches of rain from Wilmington to Cape Hatteras. Whiteville recorded 8.59 inches, and a number of roads were closed in Columbus County due to flooding.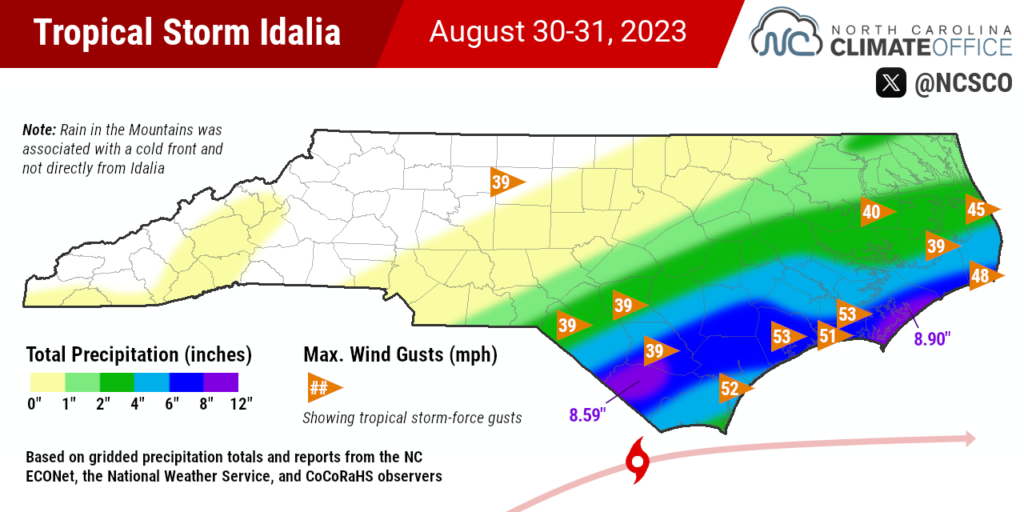 Among hourly weather stations across the state, the greatest rainfall amount as of 1 pm on Thursday was 8.90 inches at Cedar Island. The 2 to 4-foot storm surge along that stretch of the coastline caused roadway flooding in far eastern Carteret County.
The surge was exacerbated by the King Tide event due to the Super Blue Moon — super because the moon was at its closest point to the earth on Wednesday, and blue because it was the second full moon of the month.
Across the Sandhills, the rain came in the nick of time to save them from a dauntingly dry August. Fayetteville had received only 1.33 inches all month through Tuesday, which was on pace to be the 3rd-driest August there since 1998.
A total of 3.15 inches from Idalia bumped them closer to their monthly average, and could bring improvement on next week's drought map after Moderate Drought expanded into Cumberland County this week.
Of course, not all of that moisture will soak into the ground. Much of it has already run off into creeks and streams, which have surged compared to this time a week ago. In Hoke County, streamflows on Flat Creek near Inverness were much below normal last Friday, but after the storm, they spiked to record high levels for this day of the year.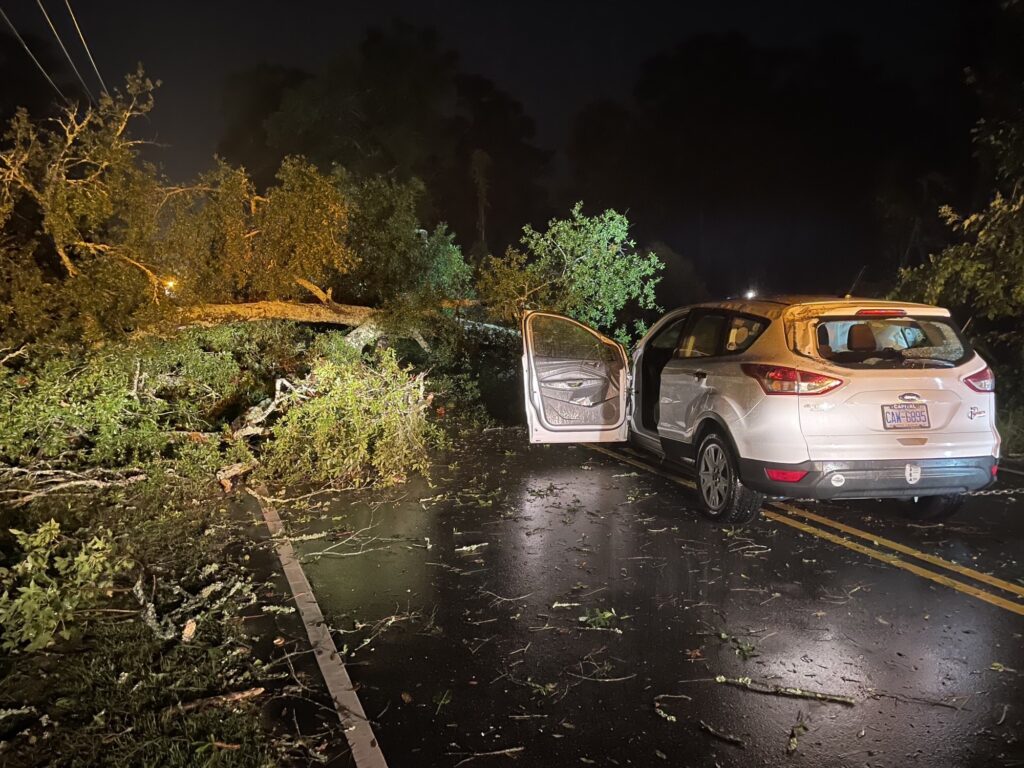 In Duplin County, more than 7 inches of rain has sent the Cape Fear River rising. It was expected to reach moderate flood stage – enough to top Highway 210 in Burgaw – by Saturday morning. The predicted crest of 15.2 feet would be the highest there since February 22, 2021.
The full impacts from Idalia, including any rainfall benefits or wind damage to crops, and any riverine flooding that occurs, will take a few more days to become clear.
However, compared to recent storms that hit Florida as major hurricanes before they reached us, it seems we were spared the worst from Idalia while topping off streams and soils that dried out during an arid August.