Looking at all our sensors at 9:30 AM today from Bodega to Waddell and Crissy to Sherman Island, you might think that the forecast of strong NW ocean winds curving into the Bay was THC induced. 
The first image below seems to confirm that diagnosis 
But look at the satellite animation in the 2nd. image. At first glance, the imagery seems to give AMA-caliber evidence that my forecast was wrong, given the clearly visible southerly ocean winds near the coast.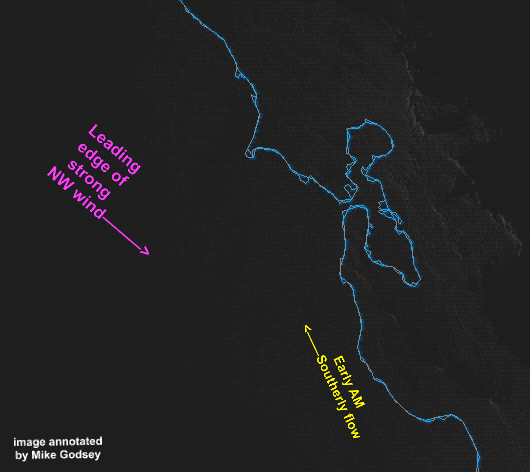 But look closely at the cloud movement in the right corner of the image. See the strong NW flow and the patches of blue skies? 
So I am sticking to my forecast.
But remember, with the max pressure gradient towards Sacramento and Stockton, most of the Bay north of the Bay Bridge will still see WSW winds as the NW ocean winds curve towards the low-pressure.