Hi Mac,
In normal years the battle is between the "good" NW ocean winds that curve through the Golden Gate and become steady WSW winds that go towards Pt. Isabel and Berkeley
VERSUS
The "bad" winds are triggered NW winds aloft that come over the Nacasio and Fairfax gaps in Marin's coast range. Those winds turn WNW and become turbulent as they hit the ridges. Then as they ripple over the Treasure Island to Pt. Isabel and Berkeley area they push the WSW wind away from parts of the sailing area.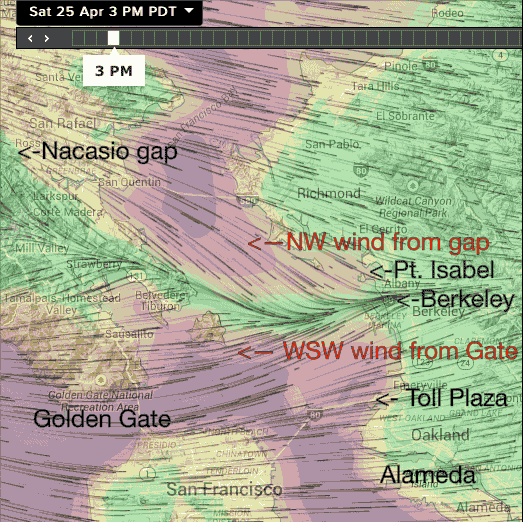 This abnormal year we have had frequent eddies outside the Golden Gate with eddy southerly wind coming through the Golden Gate.
This southerly wind curves into WSW winds near Treasure Island to Pt. Isabel just like the NW wind. However, this WSW wind is unreliable since the eddy constantly changes in size, location and strength.
So when the WNW "Bad Wind" hits the eddy-induced WSW winds, you have a mess covering a much larger area. 
Does this make sense? 
I have been forecasting long enough to remember when eddies were extremely rare and utterly caught me by surprise, destroying my forecast for great coast and Peninsula NW winds as southerly winds came out of "nowhere". 
Finally, I took one of our USAfishing.com party boats on such a day and covered the waters from the Farallon Islands to the Golden Gate. That is when I realized there was an eddy out there. Back then, the satellite imagery was too low of a resolution to see the eddy. 
I will dig up imagery from that day when I have time. 
Mike 
iwindsurf.com