Regular rainfall in April made for a wet month, and continued a string of wet weekends this year. Warm and windy weather also fanned the state's largest wildfire in more than a decade.
A Wet April Statewide
Several heavy rain events last month made for a wet April across North Carolina. According to preliminary data from the National Centers for Environmental Information (NCEI), the statewide average precipitation was 5.29 inches, which ranked as our 15th-wettest April since 1895.
Following a dry March, the skies opened up in April, beginning on the first Friday of the month. On April 7, a cold front tracking across the state produced rainfall totals of more than 2 inches in parts of the Piedmont.
The Raleigh-Durham Airport had 2.02 inches that day, which was its greatest daily total since the remnants of Hurricane Ian moved through on September 30 last year. In southern Wake County, flooding closed several roads in Fuquay-Varina.
The following Friday brought more rain as a low pressure system moved in from the Gulf of Mexico, and Wake County was again home to the highest totals. Our ECONet station at the Reedy Creek Field Laboratory recorded a 24-hour total of 1.96 inches.
Eight days later, the next round of rain – this time, on a Saturday – brought 1 to 2 inches of rain to much of eastern North Carolina, along with severe thunderstorms. Five tornadoes were confirmed on April 22, including one near Lake Norman and four others in Duplin, Onslow, and Jones counties that afternoon.
The month ended with another soggy weekend, this time courtesy of a low pressure system that dropped three-day totals of more than 3 inches along the Outer Banks. That left standing water along Highway 12, while the Neuse River at Smithfield reached minor flood stage after local totals of 2.5 inches.
That rainfall added up to make it one of our wettest Aprils all across the state. Asheville, Charlotte, and Wilmington each had their 9th-wettest April on record. In Greensboro and Raleigh, it was the 3rd-wettest. And at the coast, New Bern had its 4th-wettest April, while it was the 6th-wettest for Hatteras.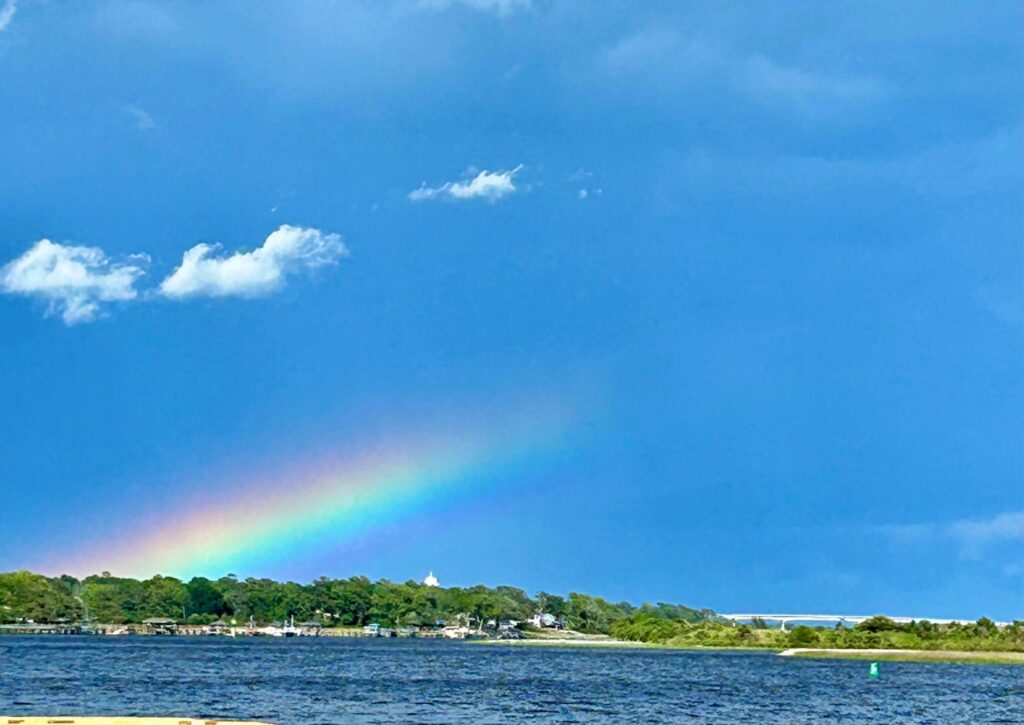 A Wet Weekend Trend
If it feels like weekend washouts have been especially common this year, it's not just your imagination. Since the start of 2023, it has rained on Saturdays and Sundays with incredible regularity.
Historically, we tend to see precipitation on about half of all weekends between January and April. But so far in 2023, it has rained on more than 70% of the weekends just about everywhere in the state.
In Raleigh, at least a trace of precipitation has been observed on 16 of the 17 full weekends this year, with measurable rainfall on 14 of those. Both of those rank as the most from January through April since modern records began in 1945.
It's a similar story in Charlotte, which has had measurable rainfall on 13 weekends, and in Asheville and Greensboro, with measurable rainfall on 12 weekends. It's even true in eastern areas that have been on the dry side overall. In Hatteras, 14 of the 17 weekends this year have had measurable rainfall.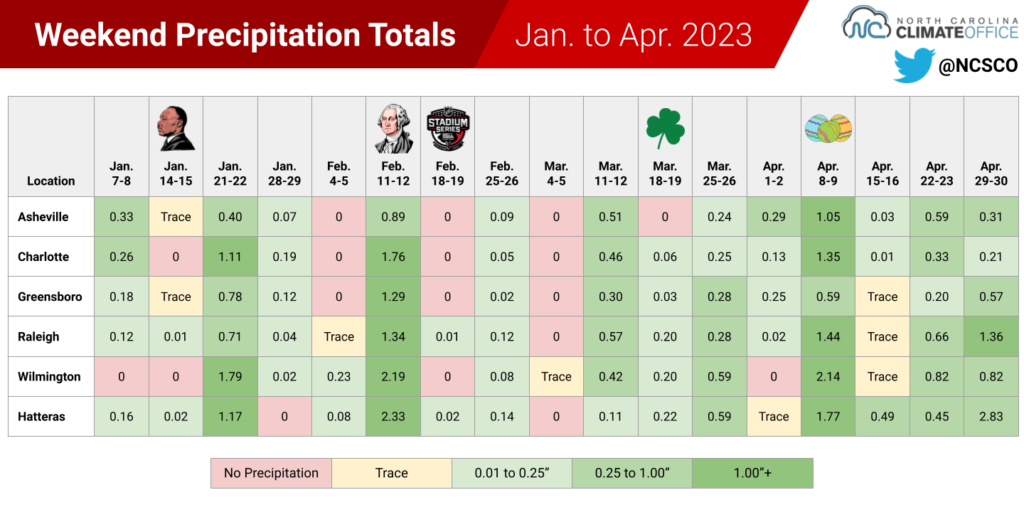 No matter the intensity, from drizzle to deluges, our rain events have impeccably lined up with the weekends. And no, it isn't some conspiracy by Mother Nature to consistently ruin your outdoor plans.
This calendar curiosity is a coincidence, perhaps partially explained by the timing of weather systems moving through every 5 to 8 days or so. We've seen precipitation with such stubborn regularity in the past, such as the four wintry weekends in January 2022 and the three straight snowy Wednesdays in March 1960.
This year's streak of wet weekends is impressive both because of its duration, and also because we're coming out of a La Niña winter, in which we tend to have fewer precipitation events in the first place.
We were indeed drier than normal during the winter, and more than 79% of the state was classified as Abnormally Dry (D0) or experiencing Moderate Drought (D1) by early April.
However, our April showers helped to remove any dryness dating back to the winter, and most areas are now running a precipitation surplus for the climatological spring. Even at the coast, Wilmington was 2.15 inches above its normal precipitation from March 1 to April 30, and Hatteras is 3.06 inches above normal for the spring to date.
This is the first time we've had a completely blank US Drought Monitor map — with no drought or abnormal dryness in North Carolina — in more than two years, since April 13, 2021.
Warm Weather Fuels Another Large Fire
In April, we left winter behind and enjoyed consistently spring-like temperatures. NCEI reports a preliminary statewide average temperature last month of 60.1°F, or our 26th-warmest April out of the past 129 years.
The warmest areas relative to normal were across the eastern half of the state. It was the warmest April on record for Ocracoke based on 37 years of data there. Wilmington had its 2nd-warmest April, trailing only 2017. And Raleigh (tied for the 6th-warmest), Greenville (tied for the 8th-warmest), and Elizabeth City (tied for the 10th-warmest) all had notably warm Aprils.
Our warmest weather happened early in the month. On April 5 and 6, temperatures climbed into the mid-80s as upper-level high pressure put us beneath an almost tropical air mass. In the Sandhills, Laurinburg climbed to 88°F, while in the Mountains, westerly Murphy reached 84°F on April 5 – its earliest day that warm since 2012.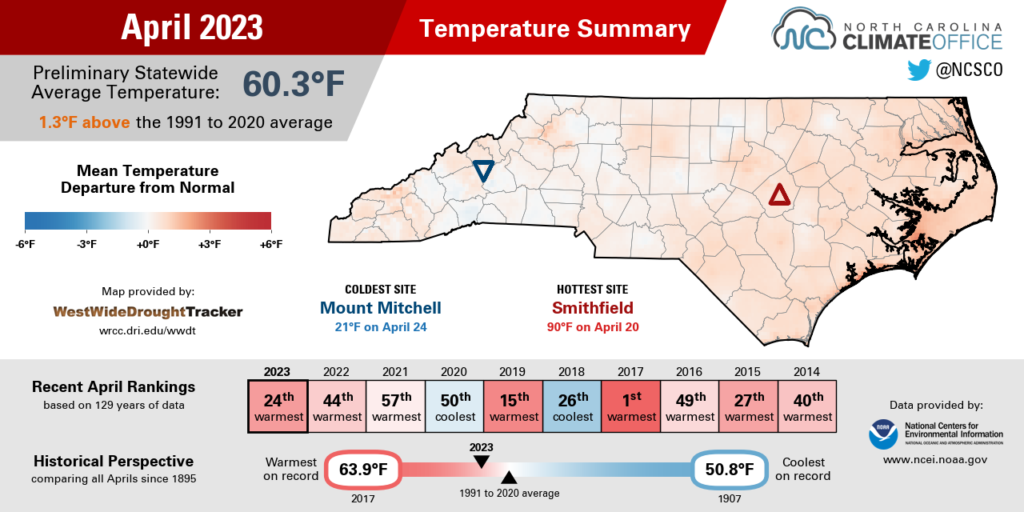 A few days later behind a cold frontal passage, we had our coolest night of the month. On April 10, low temperatures dipped into the 30s and even the upper 20s in some spots, including at our ECONet station in Siler City.
That lone cool night didn't cause much damage to early-emerging crops, but it did slightly set back the green-up of some vegetation, which prolonged the spring fire season even despite the frequent rainfall.
On that front, the biggest event of the month was the Great Lakes Fire at Croatan National Forest in Craven and Jones counties, which started on April 19 and quickly spread across more than 30,000 acres amid windy and less humid weather conditions.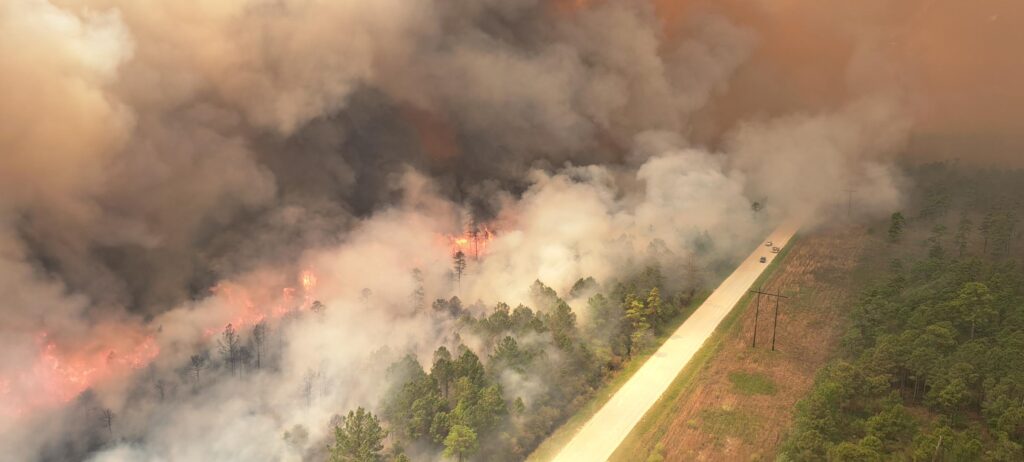 As of May 1, the fire has burned 32,400 acres and is 63% contained. It's the largest fire in the Croatan since the so-called Dad Fire that started on Father's Day weekend in 2012. That event burned 21,331 acres in the same areas as the current fire.
Statewide, this is the largest wildfire since the Evans Road Fire in 2008. That fire burned and smoldered for several months that summer across almost 42,000 acres on the Pocosin Lakes National Wildlife Refuge, and at times its smoke also caused poor air quality even far inland.
Fortunately, our late-April rains, including a half-inch to an inch on the final weekend of the month, helped raise the water table and saturate the ground where the organic-rich soils have been burning. But that wasn't before a few smoky days with poor air quality, including rare Code Purple forecasts for very unhealthy conditions in parts of eastern North Carolina.