Sherman Island is gusting over 20 at dawn as forecast since the marine layer clouds have crested the East Bay hills. But those clouds will retreat fast to near the Golden Gate and I think we will see Año Nuevo clearing so the winds should reach Waddell.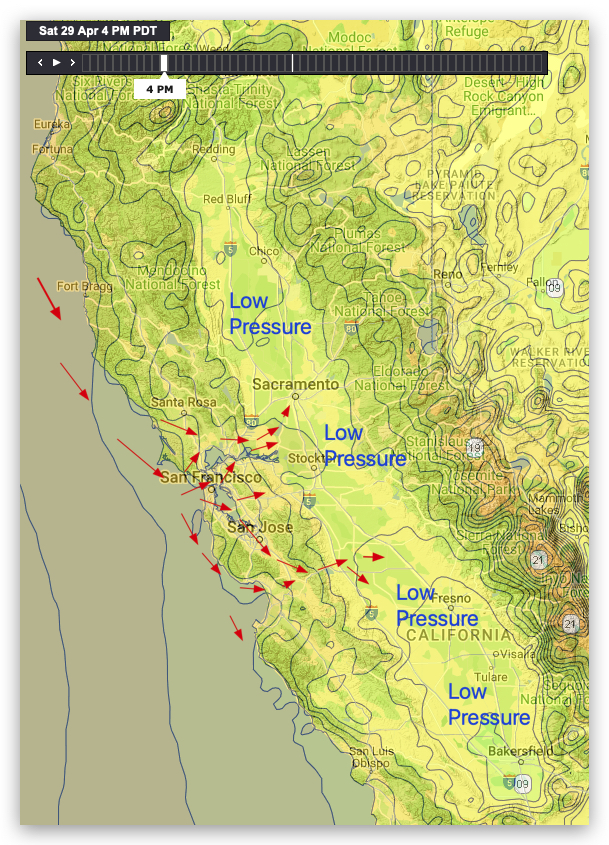 Look at the isobars in this image for this afternoon April 29.
Notice the isobar lines north of Sacramento indicating a low pressure area.
Now check out the low pressure indicated by the isobars towards Bakersfield.
Lastly notice the low pressure area east of Stockton.
This means the pressure gradient is pretty evenly split between Sacramento, Stockton and towards Bakersfield.
This is the ideal scenario to bring wind to the shore to most sites from Sherman Island to Crissy to Pt. Isabel and Berkeley to the Peninsula and to Santa Cruz. The only likely low wind exceptions are Larkspur and Tomales. 
Because all that ocean wind blowing through gaps in the coast range has to find a pathway to that low pressure. And with this setup some of it goes from the Nacasio, Petaluma, Muir & Golden Gate gaps past Pt. Isabel to Sherman. While some of it goes from the San Bruno Gap through the Altamont Pass and some through the San Jose and Morgan Hill gap to the Pacheco Pass. And those pathways take the wind to most of our launch sites.