A few cold days before Christmas were the only taste of winter many areas felt all season, as warm and often spring-like weather dominated the season overall in North Carolina.
In this look back on the winter that wasn't, we review the seasonal rankings and snowfall totals, revisit our winter outlook, and look ahead to a spring without La Niña.
Winter By the Numbers
This climatological winter, from December 1 to February 28, ranked as our 4th-warmest on record based on the statewide average temperature of 46.7°F, according to the National Centers for Environmental Information. That was 3.9°F warmer than the 1991 to 2020 average.
While our pre-Christmas cold snap moderated December's average temperature as our 61st-coolest on record, it was followed by our 8th-warmest January and 3rd-warmest February dating back to 1895.
Locally, it ranked as the 3rd-warmest winter in Greenville, Raleigh, and Wilson; the 4th-warmest in Greensboro and Hickory; and the 5th-warmest in Asheboro, Elizabeth City, and Wilmington based on long-term records at all sites.
Our winter average precipitation of 11.03 inches was 0.12 inches below the 30-year average, and it ranked as our 65th-driest winter out of the past 128 years. While January had above normal precipitation, both December and February were slightly drier than normal on average across the state.
Apart from a three-week stretch in late January and early February that saw multiple low pressure systems soak the Coastal Plain, the prevailing weather pattern this winter was wetter in the west and drier in the east, with systems like cold fronts drying out as they crossed the mountains.
Waynesville finished the season 3.32 inches above its normal precipitation, with its 14th-wettest winter in 111 years with observations. Murphy was 2.83 inches above normal in its 11th-wettest winter since 1968.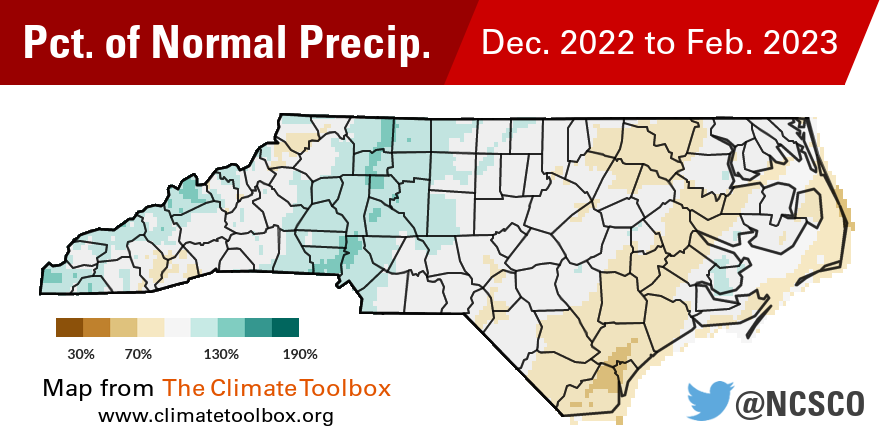 Charlotte was 3.17 inches above normal in its 41st-wettest winter on record, while Raleigh was 0.33 inches below normal for the season.
Down east, Wilmington was 3.22 inches below normal and tied for its 33rd-driest winter in the past 144 years. Manteo (-2.29 inches), Morehead City (-2.04 inches),  Washington (-2.40 inches) were all below normal for the season as well.
Snowfall Totals
With few cold air blasts to support frozen precipitation, it ended up being a snowless winter across most of the Piedmont and Coastal Plain, and even the Mountains had limited accumulations for the season.
In Raleigh, it was the 10th winter since 1944 with no measurable snowfall, and the first since 2005-06. For Charlotte, this was the 9th winter since 1940 with no accumulating snow, with the previous occurrence in 2011-12. In Greensboro, it was the first snowless winter since back-to-back snow-free years in 1990-91 and 1991-92.
The lack of snow in Asheville was even more surprising. This was only the second winter since 1965, joining 2011-12, with no measurable snowfall there. For a location that averages 10.3 inches of snow per year, and had 10.9 inches just last year, this winter was a swing and a miss.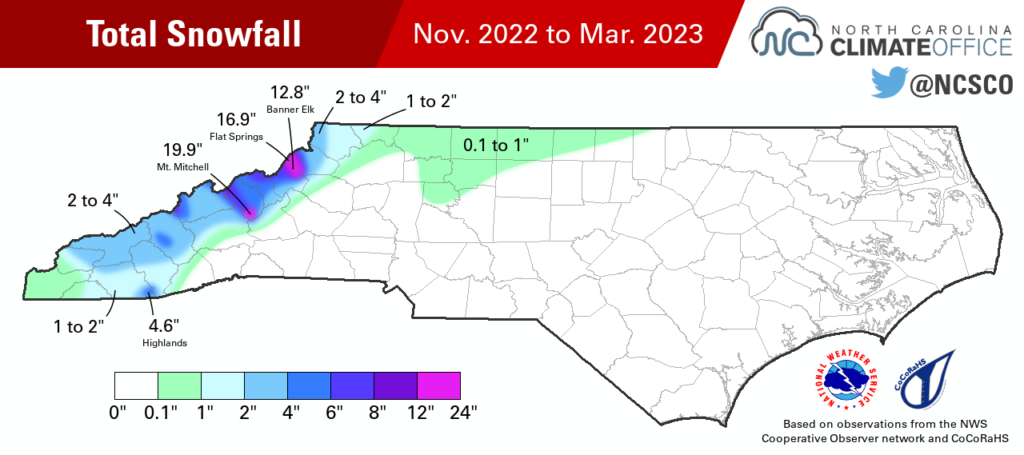 Even on our state's highest peaks, the snow was tough to come by. Mount Mitchell, which averages 89.1 inches of snow annually, received only 19.9 inches this year. If they don't get any more snow in March or April, then this will rank as the least snowy winter season there since 1980, breaking the previous record of 28.5 inches from 2001-02.
In the northern Mountains, Banner Elk had 12.8 inches compared to an average of 31.4 inches. The nearby Hawksnest snow tubing resort closed on February 24-26 due to rain and "diminished conditions" before closing for the season on February 27, citing "continued warmer temperatures and lack of snow."
A By-the-Book La Niña
In our winter outlook issued last November, we noted the remarkable nature of the ongoing La Niña pattern, sticking around for its third consecutive winter. In keeping with its typical impacts, we expected an overall warmer and drier-than-normal winter, along with one less favorable for wintry events.
La Niña's grip on the jet streams – which often retreat to the north and keep storm systems away from our coastline – did relax long enough in late January and early February for drought to fade, although Abnormally Dry (D0) conditions persisted across the Coastal Plain for most of the winter, and Moderate Drought (D1) recently returned in parts of eastern North Carolina.

Warm, windy weather in those dry areas also created some early-spring fire activity, as we cautioned in our outlook. On March 7, a brush fire burned 3,500 acres on Camp Lejeune, and the following day, nearly 300 acres burned in Cumberland County, which prompted the evacuation of 10 homes.
Our prediction of warmer weather in February – consistent with recent trends, particularly during La Niña events – also panned out, and we even gave a nod to the 80-degree weather in mid-February 2018, which foreshadowed the similar conditions this year.
All in all, we can say that this winter largely matched our expectations, perhaps because the long-lasting La Niña gave us plenty of experiences to base them on.
Spring Has Sprung?
Although it was persistent in sticking around for the past three years, the La Niña pattern wasted little time in leaving once this winter ended.
As NOAA's ENSO Blog reports, the weekly sea surface temperature anomaly across the central Pacific Ocean was back in the neutral range by the first week of March, and the nose of cooler water extending westward from the coast of South America has been eroding and is being replaced by warmer water.
That could be the first signs of a developing El Niño, but we won't know for sure until later this year once we see how conditions across the Pacific evolve during the spring and summer.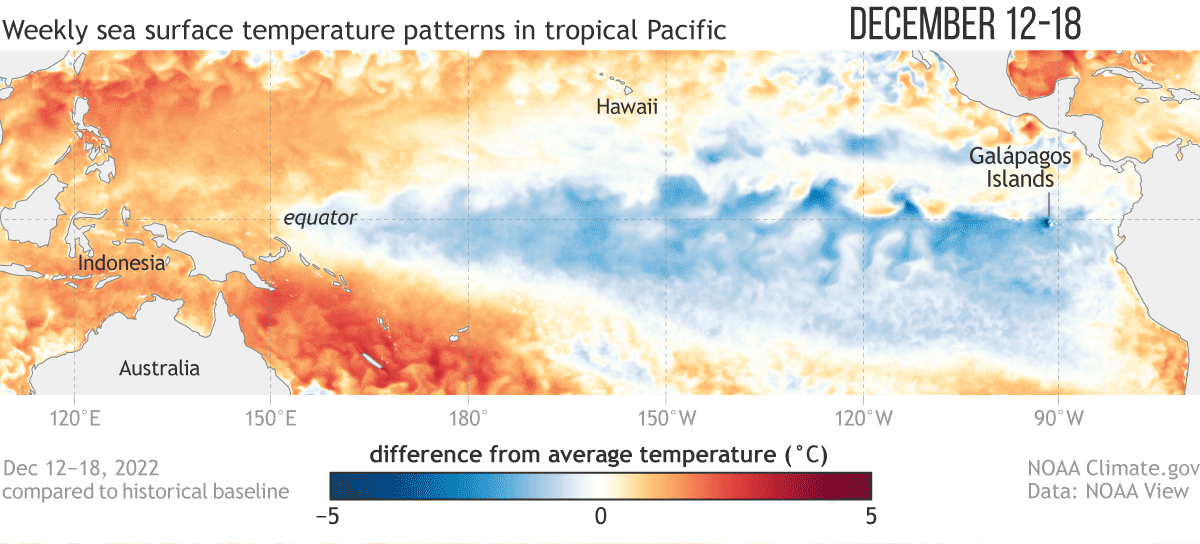 For now, we can say that any of La Niña's impacts on the atmosphere, such as its pull on the jet streams, should fade soon. That could be good news for dry areas in eastern North Carolina. The last time we exited a La Niña event was in 2018, which wound up being our 9th-wettest spring on record statewide.
The Climate Prediction Center's three-month outlook for April, May, and June gives most of the state at least a 50% of chance of having above-normal temperatures, but mostly equal chances of above-normal, near-normal, or below-normal precipitation.
While we won't reach the average last spring freeze date across the Coastal Plain until the end of March and across the Piedmont until the first or second week of April, current forecasts don't show cold air returning within the next few weeks.
Despite a few cooler nights so far in March, it appears an early-starting and potentially warm spring is in the works. In a sign of the seasons given our unwintry winter, most areas will likely have a heavier dusting of pollen than snow on the ground in the first half of 2023.