Month-long warmth in February set local temperature records, but the weather cooperated for a night of outdoor hockey. Meanwhile, early-month rains washed away drought in North Carolina. We also preview winter's potential return in March.
A Spring Sensation
Persistent and unprecedented warmth in the past month made it one of our warmest Februarys ever. According to the National Centers for Environmental Information (NCEI), the preliminary statewide average temperature was 50.5°F. It was our 3rd-warmest February on record since 1895, behind only 2018 and 2017 in the rankings.
To put it another way, that temperature was slightly above even the monthly average for March (50.3°F). And on our warmest days when the mercury climbed into the 80s, those temperatures were more typical of late May than late February.
Our first taste of the unseasonable warmth came on February 8-10 as an upper-level ridge over the Southeast US and offshore high pressure elevated our temperatures into the 70s.
Another round of warm weather arrived the following week ahead of a cold front, with highs reaching 70°F even in westerly Asheville and Murphy.
The warmest weather arrived during the final week of the month, as another subtropical ridging pattern and a warm front surging in from the south left us with Florida-like temperatures in February. On February 23, sites across the state hit the 80s, breaking all-time record highs for the month in Fayetteville (85°F), Raleigh (85°F), and Wilmington (86°F).
That record high temperature in Raleigh was 27.4 degrees above normal, which was the second-greatest daily anomaly there since 2011, trailing only February 12, 2017, when our high of 83°F was 28.5 degrees above the normal of 54.5°F. Raleigh twice topped 80°F last month and finished with its warmest February on record dating back to 1887.
Other long-term sites measuring their warmest Februarys included Hickory (warmest in 75 years) and Lincolnton (warmest in 66 years). Among our ECONet, it was the warmest February in Reidsville out of the past 19 years, and the warmest in Burnsville since 2009, which also set a monthly record high of 78.8°F on February 22.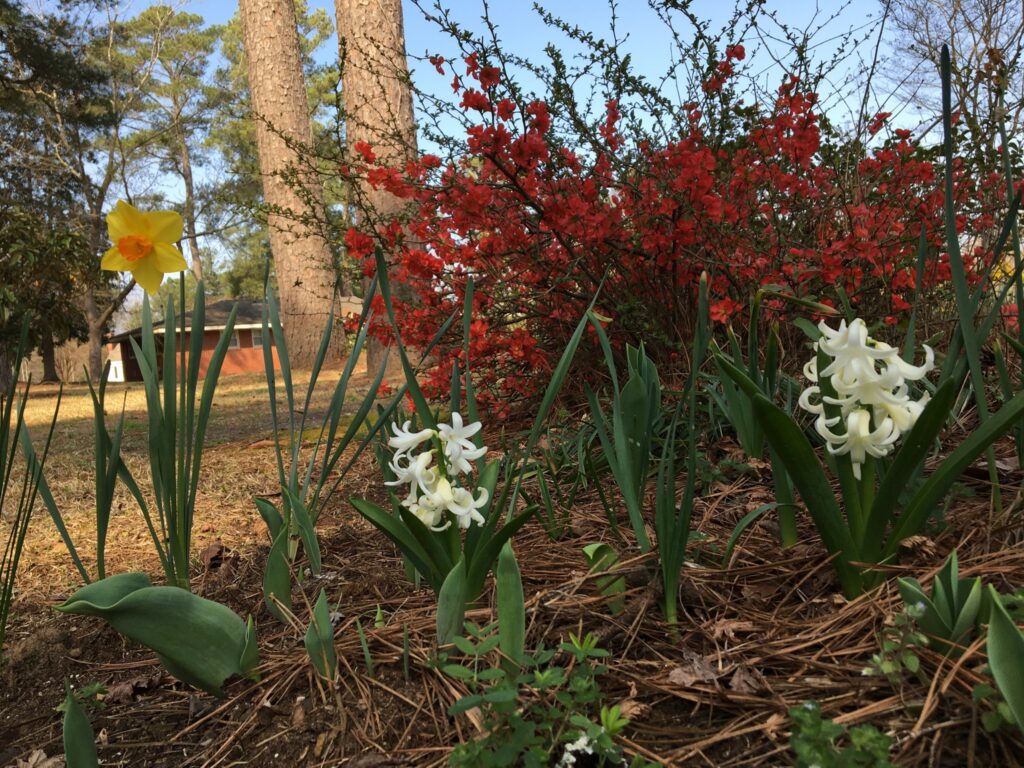 Highlight-Worthy Hockey Weather
With that incredible warmth last month, finding a window for an outdoor hockey game was like sneaking a slapshot over the shoulder of a hulking goaltender. But for the NHL Stadium Series game at Carter-Finley Stadium on February 18, the weather cooperated and offered a hint of winter amid an otherwise spring-like month.
High temperatures had been in the 70s during the week leading up to the game, and a cold front the day before brought a steady rain that nearly put a damper on the fan fest in downtown Raleigh. But that front also ushered in a decidedly more seasonable air mass, with a high temperature of just 54°F on Saturday afternoon as tailgaters assembled at the stadium.

By puck drop at 8 pm, the temperature was down to a chilly 40 degrees under clear skies, which meant sweatshirts and toboggans — rather than the short sleeves donned earlier in the week — were the ideal attire for the 56,961 fans in attendance.
Although our game preview noted how temperatures at that point in February tend to be anything but average — recent years have trended warmer, including a high of 71°F on February 18 last year — this year was fortunately spot on with our typical mid-February temperatures.
The weather was certainly one of the stars of the show, but the Hurricanes did their part as well, earning a 4-1 victory to sweep the season series against their division-rival Washington Capitals.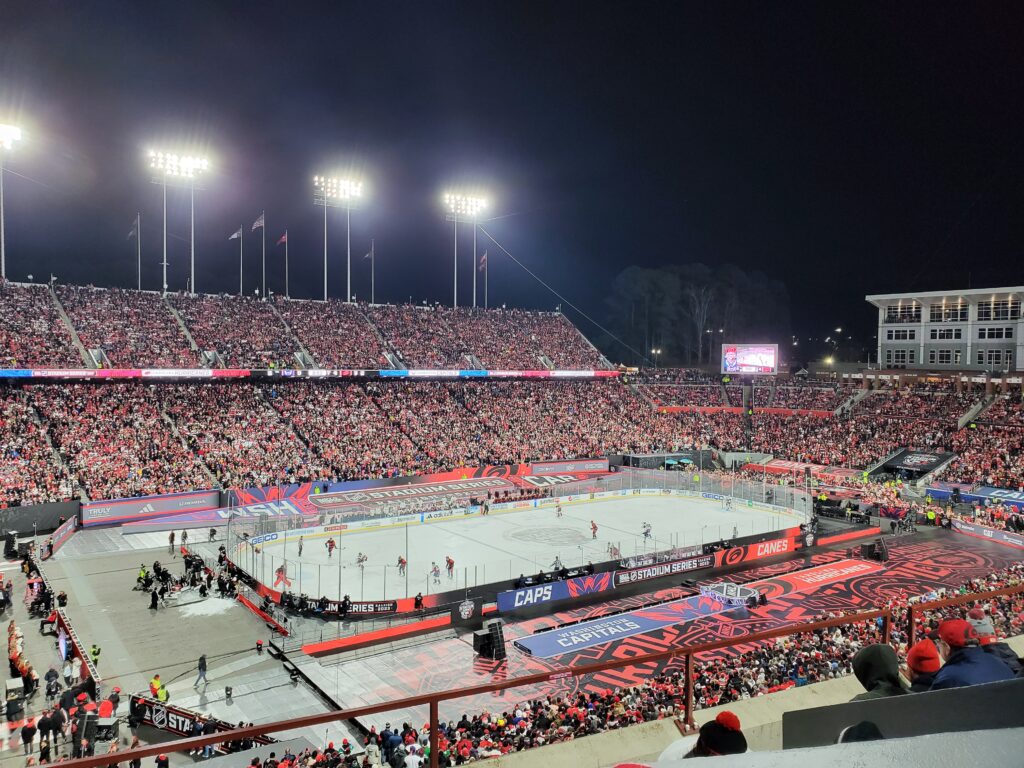 Drought Fades, But Dryness Remains
Last month started with a couple of soaking rain events but finished on a drier note across much of the state. NCEI reports a preliminary statewide average precipitation of 2.96 inches, which ranks as the 39th-driest February in the past 129 years.
The month began with several rainy days thanks to a stalled front off our coast. Most areas saw half an inch to an inch of rain, with higher amounts in the central Coastal Plain.
The following week, a coastal low pressure system brought totals of more than 2 inches, mainly in the south and east. Capping off a wet month in eastern North Carolina, that event on February 11-12 erased the final bits of Moderate Drought (D1) that first emerged last fall.
But after that soaking, the weather turned drier as high pressure took over. Based on where the early-month rain fell, there was a mixture of slightly wet, near-normal, and slightly dry areas across the state.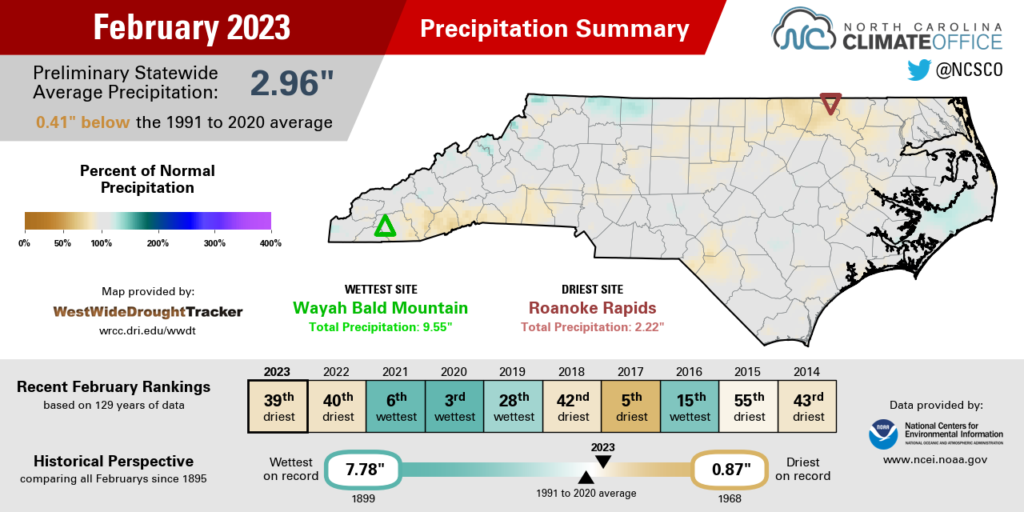 In the path of those offshore weather systems, Hatteras was 0.57 inches above normal with its 36th-wettest February since 1893. Charlotte finished the month with 3.13 inches – spot on its 30-year normal. And on the drier side, Asheville was 0.68 inches below normal with its 59th-driest February in the past 134 years.
Despite the drier end to the month, drought did not re-emerge, but a few Abnormally Dry (D0) areas remain, mainly along the southern coastline. For the year to date, Wilmington is 1.7 inches below its normal precipitation, and some streamflows along the Cape Fear, New, and Trent rivers have fallen below normal in recent weeks.
The recent warm weather, along with those drier days, has also begun to deplete soil moisture levels across eastern North Carolina. While it's not a cause for alarm just yet — and many farmers will be able to take advantage of the drier conditions to prepare their fields — we will want to see some rain in March to make sure the soil isn't too dry for planting once the growing season begins in earnest.

Something Wintry This Way Comes?
Last month, we assessed the snow-free winter across the Piedmont and Coastal Plain and offered a bit of hope, at least based on history, that February might bring some measurable accumulations.
Of course, our warm weather made the snow stay away for yet another month, which leaves March as our final realistic opportunity for snow this season.
Needless to say, the chances of a snowless winter ending in March are slim. In Charlotte, just 2 out of 10 years with no snow through the end of February have seen accumulations in March. In Raleigh, that conversion rate is just 2 for 11, while Greensboro has managed a season-saving March snow only 3 out of 17 times historically.
The odds are lower for the coast. Greenville has been snowless after February 25 times, and only 4 of those years saw snow in March. In Wilmington, during the 47 snowless winters after February, they have seen March snowfall just 5 times – or about 11% of the time.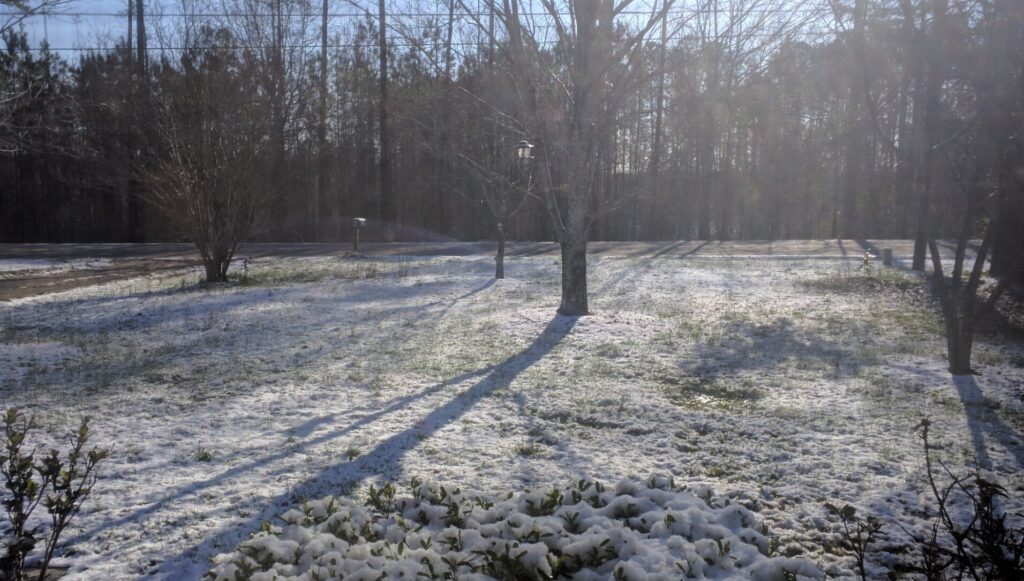 Our most recent March snowfall came in 2018, on the heels of our warmest February on record. And while snow is no guarantee this month, the overall weather pattern could be a case of history repeating itself.
At the moment, a sudden stratospheric warming event is occurring high up in the atmosphere over the North Pole. Over the next few weeks, that is expected to weaken the polar vortex, which often unlocks the gates to cold air to our north.
Sure enough, current outlooks show a southward-diving jet stream and cooler-than-normal temperatures across much of the United States by mid-March.
While wintry weather could be possible, the most likely impact of that pattern change would be a shock to the system for vegetation that has already budded or blossomed. Exposed flowers, fruits, and other sensitive tissues on those plants could be easily damaged during a cold snap, and with an average last spring freeze date in late March or early April across most of the Piedmont and Coastal Plain, we're certainly not out of the climatological woods for such cool nights just yet.
If your garden is already in bloom when that cooler weather arrives, check out these tips from NC State Extension on how to protect against frost and freeze damage, such as watering plants since moist soils retain more heat, covering plants with cloth or paper cups to trap heat, and bringing sensitive plants indoors on those coldest nights.
After a February that felt more like March, we could have some March nights that feel more like January as our topsy-turvy start to 2023 continues.