An outdoor ice rink might not be a common occurrence around North Carolina, but next weekend, tens of thousands of fans – plus a few dozen talented National Hockey League players – will gather at NC State's Carter-Finley Stadium to witness such a sight.
This year marks the 20 years since the NHL played its first regular-season outdoor game. During those past two decades, games have been played in the chill of Edmonton and Minneapolis, the snow in Boston and Buffalo, and even not-so-wintry weather at southern locales such as Dallas and Nashville.
Now, it's Raleigh's turn as the hometown Carolina Hurricanes are set to host their division rival Washington Capitals on Saturday, February 18 as part of the NHL Stadium Series. Unlike their typical bouts inside PNC Arena, this game has a wildcard element of – well, the elements!
The Game Day Climatology
February 18 falls at an interesting part of the climatological calendar, when our weather sometimes still feels like winter but can just as easily ring of spring.
Per the 1991 to 2020 climate normals, the average February 18 high temperature in Raleigh is 56.5°F, with an average low of 34.7°F. With puck drop set for 8 pm, that would typically mean game-time temperatures in the mid-40s.
But in recent years, our weather has been anything but average on that date. Last year, we climbed all the way to 71°F on February 18, while two years ago, we only hit a high of 40°F. Our record high on that day is 78°F in 2011, while it never warmed up beyond 19°F in 1979.
We've had rainfall on February 18 in each of the past five years, including 0.78 inches in 2021, and 32 out of 78 times historically. But for fans hoping the outdoor ice is adorned with some fresh snow, don't get your hopes up.
Measurable snow has fallen in Raleigh on February 18 just five times since 1945. Most recently, 0.4 inches was on the ground in 2015. Prior to that, it also snowed on that date in 1972 (0.5"), 1977 (1.5"), 1979 (10.3"), and 1989 (5.8").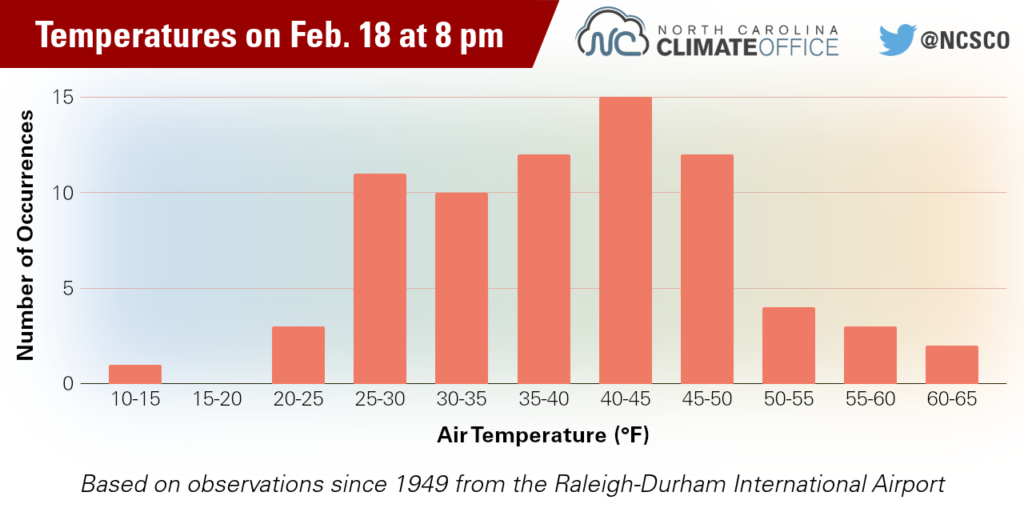 Prepared for Any Weather
From warm to cold and sunny to snowy, the National Hockey League has to be ready for just about anything during their outdoor games, so the ice is set up to withstand (almost) all conditions.
That begins with its construction, which isn't as simple – or as spectacular – as flooding the stadium and waiting for it to freeze. Since football fields like the one at Carter-Finley have a slight crown, or slope away from the center to allow for drainage, crews first cover the field in tarps, then construct a level stage out of plywood to elevate the rink about six inches off the ground.
Next comes a built-in refrigeration system consisting of aluminum panels and pipes that can circulate 3,000 gallons of coolant to transfer heat away from the ice.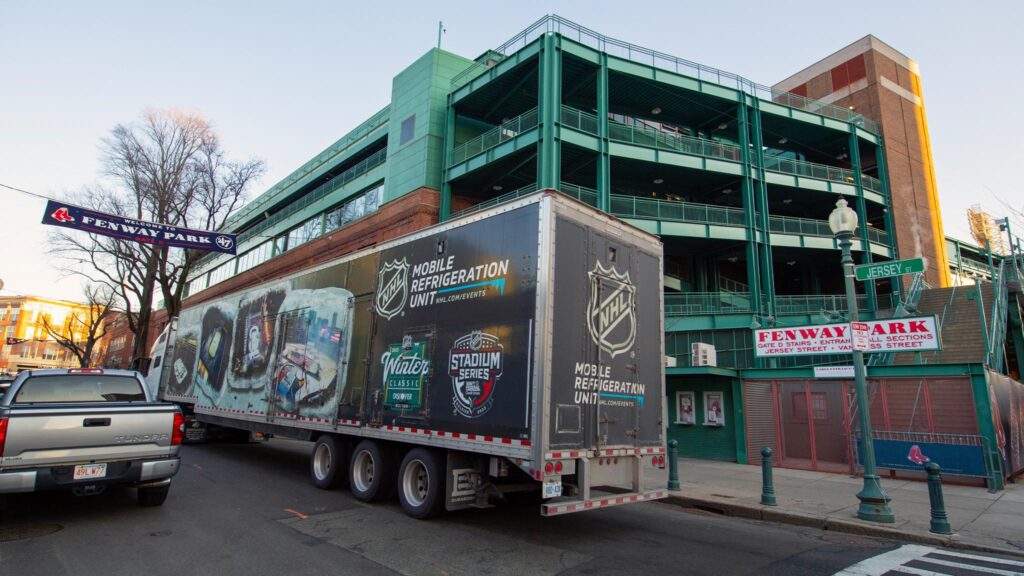 That ice is then built up layer by layer using 20,000 gallons of water. That's enough to create a 200-foot by 85-foot rink with an ice thickness of 2 inches: nearly double the standard inch-and-a-quarter thickness used indoors in order to offer extra protection against the weather.
All of that infrastructure, including a mobile refrigeration unit that keeps the coolant flowing, helps the ice stay in good condition whether it's cold – like the 6-below-zero faceoff temperature in Minnesota last year – or warm, with games played in air temperatures of up to 65°F in Denver back in 2016.
Just about the only weather that can put a damper on an outdoor game is heavy rain. Puddles and standing water on the ice can be a hazard for both skaters and the ice itself, melting it from the top down.
Despite our recent rainy pattern and our sometimes-springlike February climate, we can take solace in the NHL's track record, with no outdoor games canceled since their inception back in 2003.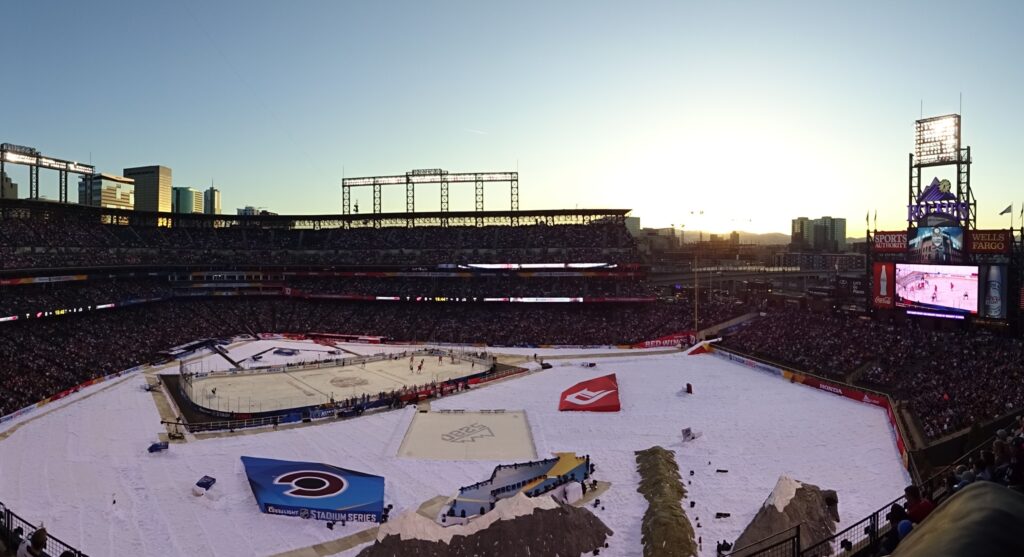 An Early Outlook
While the exact gameday forecast won't come into focus until a few days ahead of time, the early outlooks are decisively pointing toward warmer conditions for next weekend.
The Climate Prediction Center's 8-to-14-day outlook as of February 7 is showing a 60 to 70% chance of above-normal temperatures for the period from Wednesday, February 15 through Tuesday, February 21.
That would be right in line with our recent weather, on the heels of our state's 8th-warmest January on record, and also matching recent trends. During La Niña winters like this one, each of the past 11 Februarys has been warmer than normal overall. And on February 18 in five out of the past six years, our afternoon highs in Raleigh have reached 60°F or warmer.
And what can we say about the game itself? Recent history suggests it should be a close contest, as the Hurricanes and Capitals have split their four head-to-head meetings since the beginning of the 2021-22 season. In their first game this season, Carolina won 3-2 on Halloween night.
In that game, each team's all star scored a goal, with Alex Ovechkin striking for the Capitals and Andrei Svechnikov answering for Carolina late in the second period. In the tiebreaking shootout, Svechnikov again had the magic touch to put the Hurricanes ahead. Both teams will look for similar performances from their top players to break the ice — not literally, we hope! — at Carter-Finley.
Carolina and Washington have played in the same division for 23 of the past 24 seasons, including a dramatic seven-game playoff series in 2019 that the 'Canes won in double overtime. So it's safe to say that these two teams are very familiar with each other.
But they've never played a game quite like the Stadium Series matchup coming up on January 18. In part of the country where outdoor ice usually means a nasty freezing rain event, the term ice storm will take on a new meaning as the Hurricanes and Capitals square off next Saturday.