Yesterday saw an abrupt drop of the wind velocity at some La Ventana sensors around 2:30 PM. This fade nicely illustrates the importance of heat in the Los Planes Valley.
Below is my forecast for yesterday which mentions the possibility of this happening.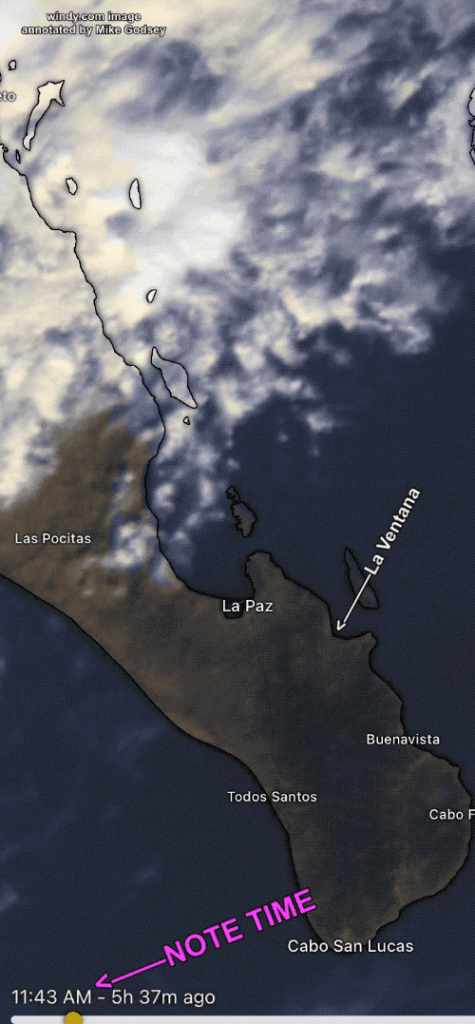 This satellite imagery shows the massive clouds to our north and the clouds that briefly filled much of the valley
Satellite imagery of heavy clouds just north of Baja's East Cape!
Baja's East Cape forecast for La Ventana, Los Barriles and El Sargento: Very heavy clouds starting just
north of La Paz to past Mulege with scattered rain. The models always struggle with clouds on a microscale like our coastal valleys and today Ensemble of all the models have an average cloud cover coverage going from 10% this morning to a wind weakening 60% by 4 PM. However, it looks like that cloud coverage is only HIGH THIN clouds that should not strongly impact coastal valley heating. So unless the heavy clouds to the north unexpectedly move our way I expect valley heating to curve the large-scale NNW wind to La Ventana, Los Barriles and El Sargento beaches where it combines with mild local sea breezes. Once again, NNE winds at ≈1000 feet aloft (975MB level) randomly transfer momentum to the surface making the winds GUSTY.