This November, Mother Nature was an accommodating hostess, serving up weather both hot and frozen, with entrées moist and filling, or burnt to a crisp. Plus, we reminisce about recent months in our fall recap.
A Warm Exterior Sandwiches a Chilly Center
Several strings of deceptively warm days boosted this November in our historical temperature rankings. The National Centers for Environmental Information (NCEI) notes a preliminary statewide average temperature of 53.6°F and our 13th-warmest November out of the past 128 years.
In the first week of the month, southerly winds around offshore high pressure pushed our temperatures into the 80s all across the state.
In the Mountains, Hot Springs hit 86°F on November 7, which was its latest ever day that warm dating back to 1984. In the Piedmont, even northerly Roxboro reached 84°F that same afternoon, which was the warmest November day there since 1974. And at the coast, Wilmington finished the month with 7 days at or above 80°F, which tied for the third-most in any November since 1874.
Our biggest cooldown came on November 13 as Canadian high pressure pushed in behind a cold front. That sent daytime temperatures tumbling into the 40s across the western Piedmont, while lows dipped below freezing including in Raleigh, which had its first fall freeze on the morning of November 14.
That event even saw a snowy surprise in the Mountains with the first flakes of the season. More than an inch of snow accumulated in some high-elevation areas, especially in Yancey County.
The cooler mid-month stretch didn't last long, as temperatures soon climbed almost 10 degrees above normal under the influence of southeastern high pressure. Thanksgiving afternoon temperatures even hit the 70s at some southern coastal sites.
With those warm weeks in mind, many areas had one of their top ten warmest Novembers on record. In Raleigh, it was the 5th-warmest since 1887 and the warmest November since 2003. Lumberton tied for its 6th-warmest November in the past 107 years, and Wilmington had its 8th-warmest on record.
Nicole Tops the Guest List
Beginning with some tropical leftovers, November included several gauge-filling rain events that made it wetter than normal overall. NCEI reports a preliminary statewide average precipitation of 4.12 inches, which ranks as the 29th-wettest November since 1895.
The most notable event during the month was Hurricane Nicole, the remnants of which moved through on November 10-11 and dropped more than 4 inches of rain in parts of the Mountains.
For the central and eastern Piedmont, the heaviest rains came on the weekend after Thanksgiving. A pair of frontal systems brought totals of 2 to 3 inches from Charlotte through the Triangle. On November 27, our Chapel Hill ECONet station reported 1.64 inches – the highest daily total there since the remnants of Hurricane Ian almost two months earlier.
Those Mountain and Piedmont areas that received the heaviest rains last month also saw improvement on the US Drought Monitor, with Abnormally Dry (D0) conditions fading as seasonal rainfall deficits disappeared.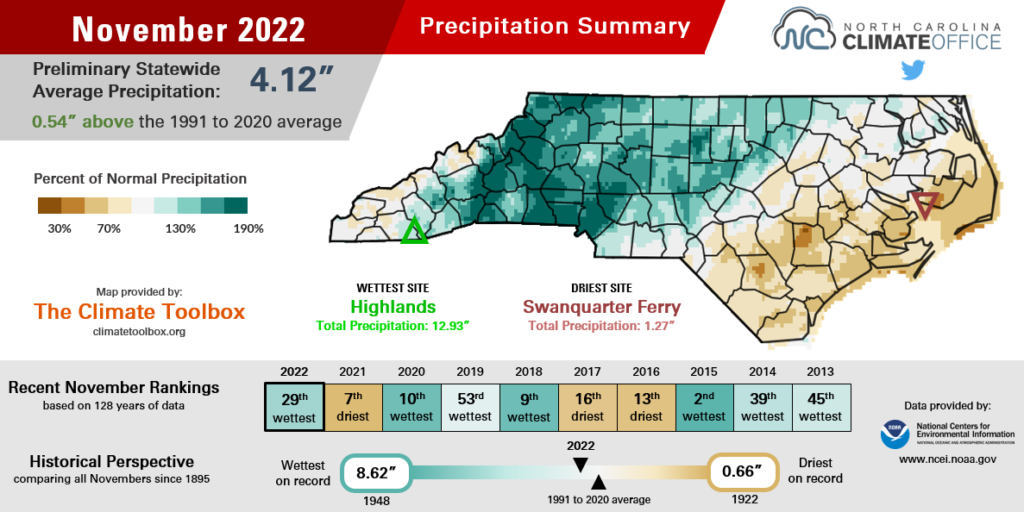 For instance, at the end of October, Charlotte was 1.3 inches below normal for the fall, but a monthly total of 5.82 inches – and its 11th-wettest November on record – put the Queen City 1.2 inches above normal as climatological fall came to a close.
On either end of the state, though, rain was less frequent and less intense, so drought remains in place. In northern Haywood County, the dry conditions helped the Hurricane Ridge wildfire spread across 700 acres, including along Interstate 40.
Down east, our Clinton ECONet station measured only 1.89 inches of rain all month and wrapped up its 5th-driest fall in the past 24 years. The lack of recent significant rainfall has sent streamflows in the lower Cape Fear River basin dropping well below their normal seasonal levels.
There is one bit of good news, even for those drought-affected areas: this November was wetter than last year's, when most of the state had less than an inch of rain, Severe Drought (D2) was expanding, and the famous pinnacle of Pilot Mountain was shrouded by smoke and fire.
Even with another potentially dry La Niña-driven winter ahead, we can say that the grass is quite literally greener now than it was one year ago.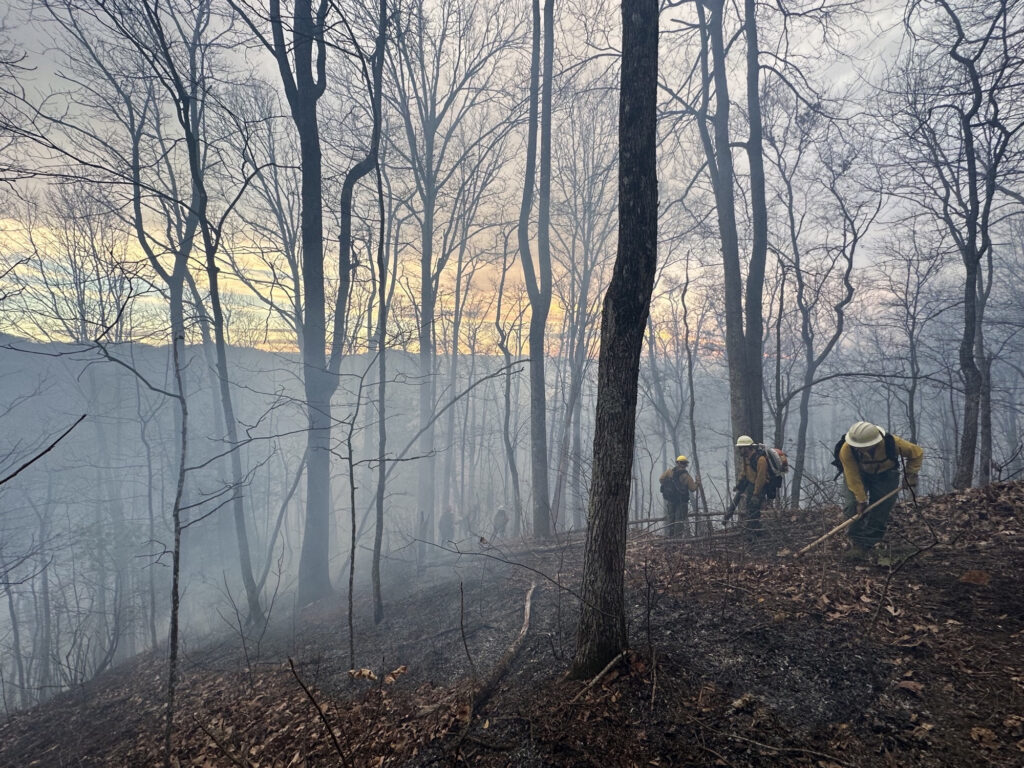 Final Thoughts on Fall
November brought an end to the climatological fall, which was a season of big temperature and precipitation swings this year.
September's initial summer-like heat eventually gave way to more seasonable conditions, and even a rare cooler-than-normal October. November's prevailing warmth pulled the seasonal average temperature slightly above normal. NCEI's preliminary statistics show the statewide average temperature for the past three months was 60.6°F, or our 41st-warmest fall on record.
Perhaps even more dramatic were our dry spells bookended by heavy rain events. In early September, the southern Mountains picked up more than 6 inches in some areas, and drought was hardly a concern. In fact, our last drought had just ended after sticking around for almost ten straight months.
But by mid-September, a drier pattern settled in and sent far western North Carolina spiraling back into drought just a month later. Even a would-be drought buster in Ian mostly missed those mountain areas, and the dry days continued through most of October.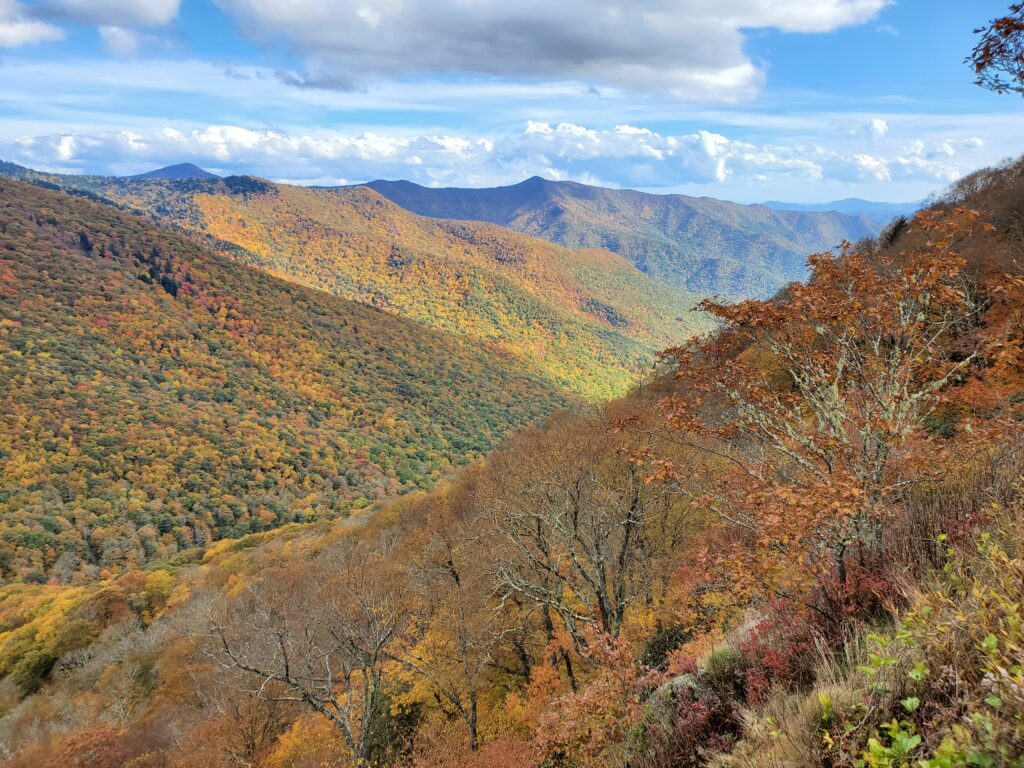 Rain from Nicole and our other late-November events offered some relief, but many western sites still finished the fall at a rainfall deficit. Bryson City was 2.10 inches below average, and Asheville, which is currently classified as Abnormally Dry (D0), was 0.71 inches below normal.
The Piedmont was in a Goldilocks-like "just right" position to get beneficial rains from both of our fall tropical systems and finish the season near normal. With 11.98 inches, Greensboro was an inch above average, while Raleigh's fall total of 10.93 inches was 0.9 inches below normal.
Much of the southern and central coast has been dry since Ian, so the greatest seasonal precipitation deficits have accumulated there. The 7.71 inches this fall in Wilmington was 9.20 inches below normal, and Newport was 8.16 inches below normal.
Statewide, it will go down as a slightly drier-than-normal fall. The preliminary data from NCEI shows a seasonal average precipitation total of 10.53 inches, or 2 inches below the latest 30-year average, which ranks as our 61st-driest fall on record.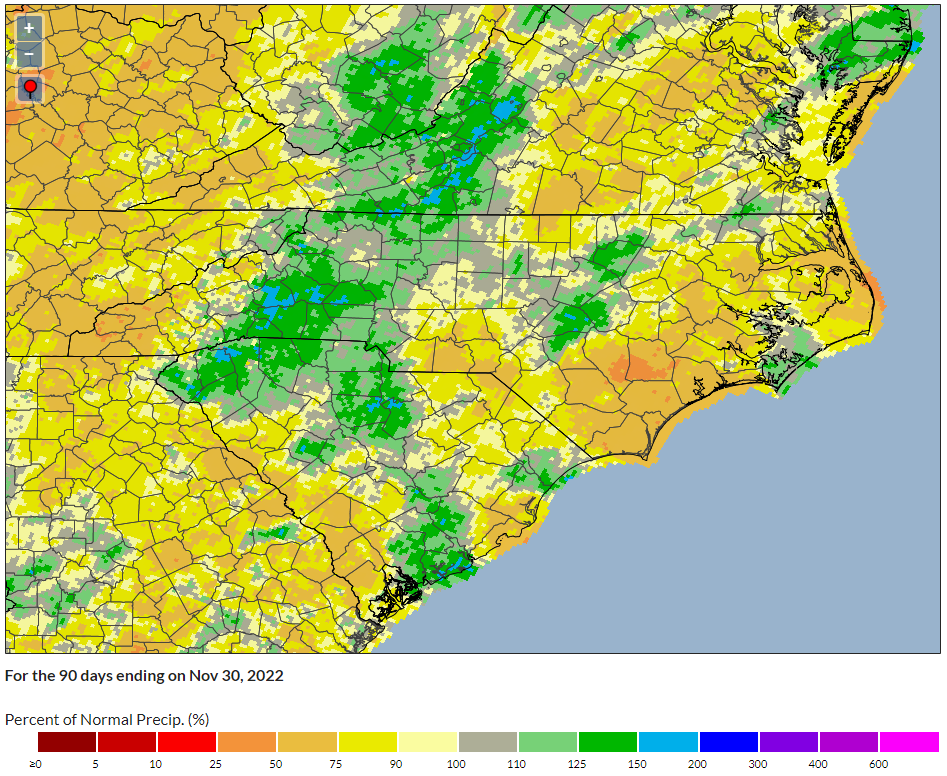 That's in part because of a relatively quiet hurricane season, at least compared to the preseason predictions for an above-average year in the Atlantic. Nicole was the fourteenth named storm, which matched the latest 30-year average. Of those 14, only three affected North Carolina.
Colin in early July was a short-lived storm and a minor rain event at best. Ian and Nicole were better rainmakers, but for coastal areas accustomed to multiple soaking storms each year, they weren't enough to overcome an otherwise dry season.
Barring a December deluge, parts of southeastern North Carolina will also finish the calendar year below normal. As of November 30, Wilmington has recorded 39.17 inches so far this year, compared to the annual normal precipitation of 60.15 inches. That means 2022 is likely to be the driest year there since 2011, which ended with 39.87 inches total.
To find out how this year wraps up and stacks up, stay tuned in January. We've tentatively scheduled our year-in-review webinar for Tuesday, January 17 at 11 am; a summary blog post will also be released that day. Our December climate summary will have more details and a link to register for the webinar.