The banner above shows what the winds looked like

at the La Ventana campground at 9:45 AM Thanksgiving Day. Note the building white caps.
What causes the winds to start out so early and how did the forecast predict this in advance?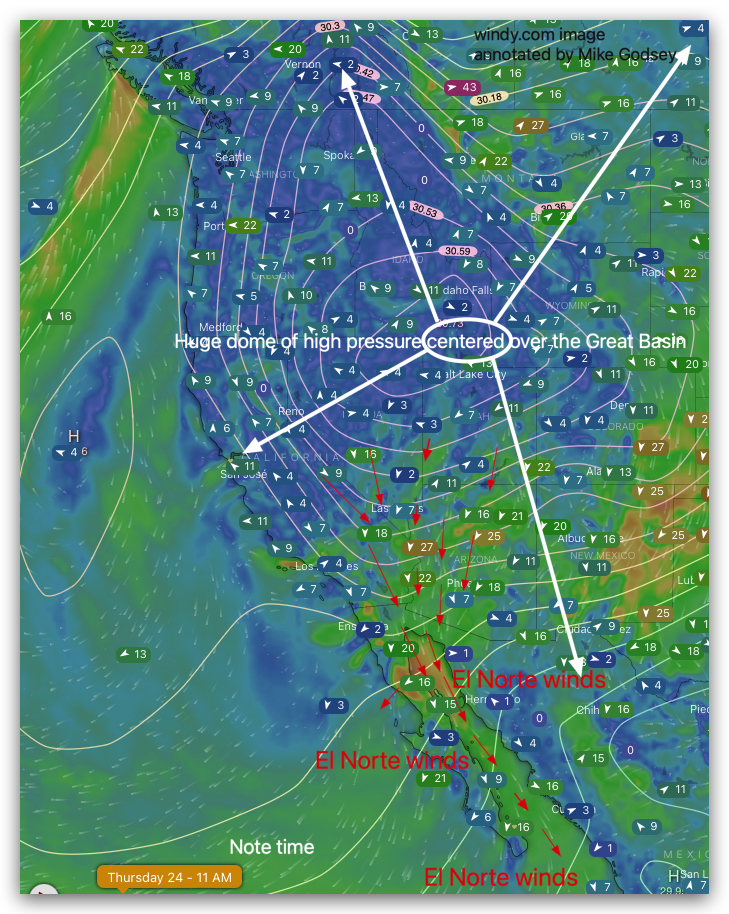 Well, forecasting strong El Norte winds was easy.
This next image shows the huge high pressure dome contered over the Great Basin.
if you look carefully at the red arrows and the sensor readings you can see that even in the early morning there were strong winds streaming down the Sea of Cortez.
Usually we have to wait for the Los Planes valley to heat up and for low pressure to develop to such the El Norte winds to the beach. That will happen later today around noon.
Now go back to the top image and notice how gusty the winds were at John's sensor.
Now look at this image showing the modeled winds from the surface all the way up to the jetstream at a point just east of the La Ventana beach. The flag reading 13 mph is our reference point. Now look at the arrow pointing to the X axis on the graph at 975 mb level which is about ≈ ≈1000 feet aloft (975MB level)

Normally we don't care much about winds 1000 feet above the surface but since both the surface winds and the 975 mb winds are roughly parallel to the rugged coast to our north there is a lot of turbulence. If you are staying at a house atop the bluff in the El Sargento area you experience that turbulence as blasts and lulls in the early morning. That trubulence transfers some momentum to the surface winds and moves them towards the beach. Hence the early AM winds.