Hurricane Nicole made landfall just south of Vero Beach, Florida in the early hours of Thursday, November 10th as a rare, late-season Category 1 hurricane with sustained winds estimated at 75mph. Significant beach erosion was observed hundreds of miles away from landfall, well up into the Daytona and Jacksonville areas. 
So how did a relatively weak hurricane cause such devastating effects so far from it's center?
HUMBLE, but broad BEGINNINGS
The National Hurricane Center first initiated advisories on subtropical storm Nicole on Monday, November 7th. At that time, it remained a very broad area of disorganized weather east of the Bahamas that was classified as "subtropical", meaning there was not a centralized, organized circulation center just yet. But given favorable conditions expected to remain in place near the system and potential trajectory into the Bahamas and eastern Florida, there was cause for concern that this system could strengthen and become tropical in nature, with a more vertically-stacked and organized circulation center. 
By the morning of Tuesday November 8th, Subtropical Storm Nicole officially became Tropical Storm Nicole.  From it's inception, Nicole was marked by a relatively wide cloud presentation on satellite as shown above.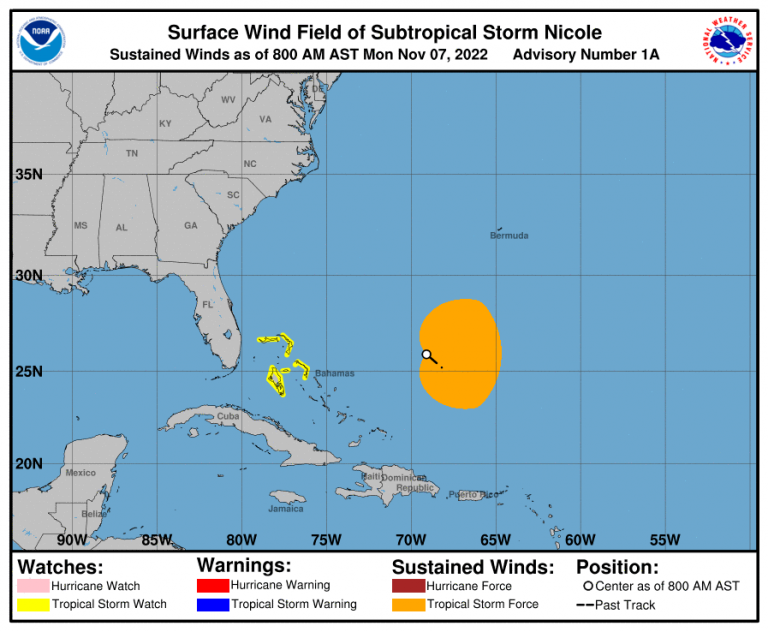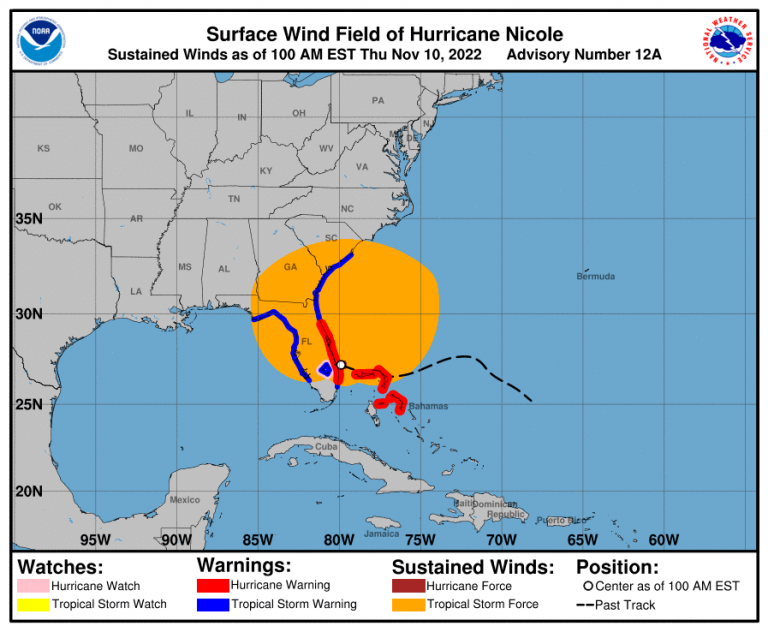 As it continued westward, environmental conditions never quite allowed for the system to organize into the more symmetrical, circular, buzzsaw shape of a stronger hurricane. In fact, as seen in the images above, the radius of tropical storm force winds from start to landfall continued to expand primarily on it's northern side as it approached the coast of Florida. 
So what caused such a lopsided expansion of the winds northward of the storm's center?   
What's high pressure got to do with it?
Typically in our summer, warm high pressure domes (areas of relatively high surface pressure) across the southeastern US remain centered across the Carolinas or offshore, as in the case of the more semi-permanent Atlantic high. These warm-core highs can be relatively strong and cause sweltering heat waves in the summer, but generally, they remain weaker in comparison to their cold-core high counterparts that bring chilly, arctic weather out of Canada in the fall and winter months. 
So whereas you may see surface pressure maximums into the 1016-1020mb range in the summer for a strong high pressure ridge, in the fall and especially winter, it's very common to see upwards of 1030 to even 1040mb highs.
Ok, so what's this got to do with Nicole? In the case of Nicole, what made this setup so unique was the TIME of year it occurred. 
Because a seasonally strong 1035mb high pressure ridge was firmly rooted across the northeastern US in early November, this allowed for a very strong pressure gradient, or change in pressure over distance, to develop from the northeastern US all the way down to Nicole.
Wind speed and direction are directly related to the strength and orientation of a pressure gradient. Thus the stronger the pressure gradient, the stronger the wind field, so as Nicole traveled westward and began to interact more with this strong high pressure, very strong sustained surface winds out of the NNE-NE developed over 100+ miles northward from the center of the storm.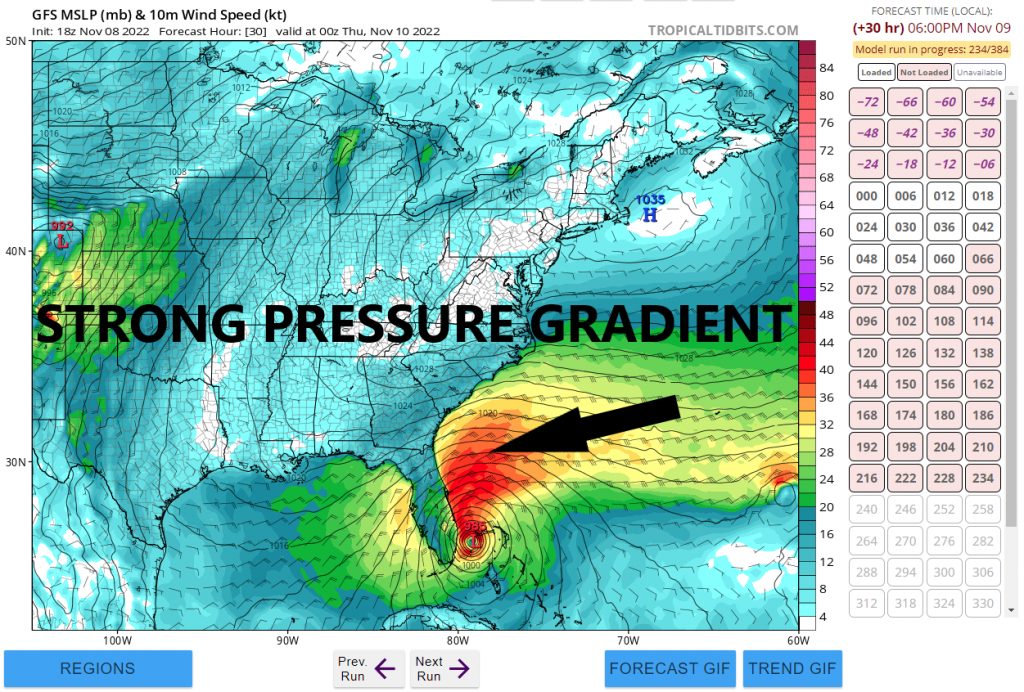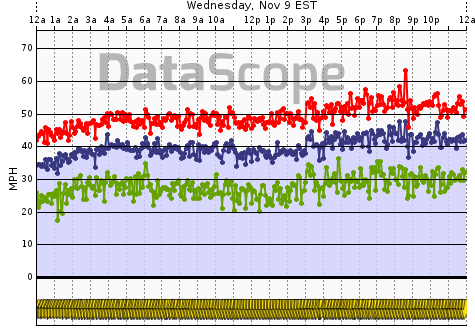 One of WeatherFlow-Tempest's sensors in the popular Huguenot Park region near Jacksonville, Florida measured sustained tropical storm force winds near or above 39mph much of the day on Wednesday the 9th. This is over 200+ miles away from the landfall of Nicole!
This prolonged, very strong NNE-NE fetch caused catastrophic, extensive beach erosion and damage to homes and condos from Pompano Beach all the way up to Jacksonville and beyond, proving even minimal, late-season storms can still pack quite a punch far away from the center with the right setup.
The post Hurricane Nicole: How a minimal, late-season hurricane caused devastating beach erosion along Florida's northeastern coast appeared first on Blog.WeatherFlow.com.