Most of the past month was rain-free, and also cooler than normal with a mid-month freeze event. Those conditions were ideal for leaf color, but not for drought.
After Ian, Rain Stays Away
A wet first and final day of October bookended an otherwise bone-dry month. The National Centers for Environmental Information (NCEI) reports a statewide average precipitation of 2.07 inches, which ranks as our 37th-driest October in the past 128 years.
The month began with lingering rain from the remnants of Hurricane Ian on October 1. While that was welcome rain in eastern areas that had begun to dry out earlier in the fall, it was clear in the days after the storm that Ian's moisture did not stick around for very long, and instead was quickly absorbed by thirsty soils.
Making matters worse was the stretch of dry days through the middle four weeks of October. Between October 2 and 30, most of the state had less than an inch of precipitation, as a persistent high-pressure pattern over the Southeast US diverted most rain-producing weather systems and suppressed pop-up shower activity.
The month ended the same way it started: with a batch of rain moving across the state, this time associated with a low pressure system on Halloween night. The heaviest rain fell between Raleigh and Rocky Mount, including 2.1 inches at our ECONet station in Clayton.
However, that event wasn't widespread – the Mountains and Coastal Plain mostly missed out on the rain, to the relief of trick-or-treaters there – and it also wasn't enough to bail us out from an overall dry October.
In the Coastal Plain, Lumberton finished the month with just 0.37 inches of rain – its 7th-driest October out of 111 years with observations. New Bern measured only 0.56 inches all month for its 4th-driest October since 1948. And Wilmington had only 0.59 inches, which was its 16th-driest October since 1874 and the driest since 2001.
Farther west, even including those Halloween showers, Raleigh recorded only 1.28 inches of rain all month and tied for its 24th-driest October on record. Charlotte had 0.71 inches and its 17th-driest October. And in Asheville, where late September rains from Ian were limited, October brought only 0.68 inches, tied for its 18th-driest October.
A Rare Cool October
Fall-like weather arrived in force on the first day of astronomical autumn in September, and it stuck around through an unusually cool October. According to NCEI, the statewide average temperature of 57.8°F ranked as our 31st-coolest October since 1895.
It's only the second October in the past decade that was cooler than the 1991 to 2020 average temperature, joining October 2015, which also started with a heavy rain event and finished with a fall flourish.
With a 2.6°F departure from normal, this October was our coolest month relative to the 30-year average since May 2020, which was characterized by cloudy, rainy weather.
Of course, last month was quite the opposite, with ample sunshine and few clouds. Those were optimal conditions for radiational cooling overnight, and our average minimum temperature of 45.5°F was the 36th-coolest on record and the coolest since 2011.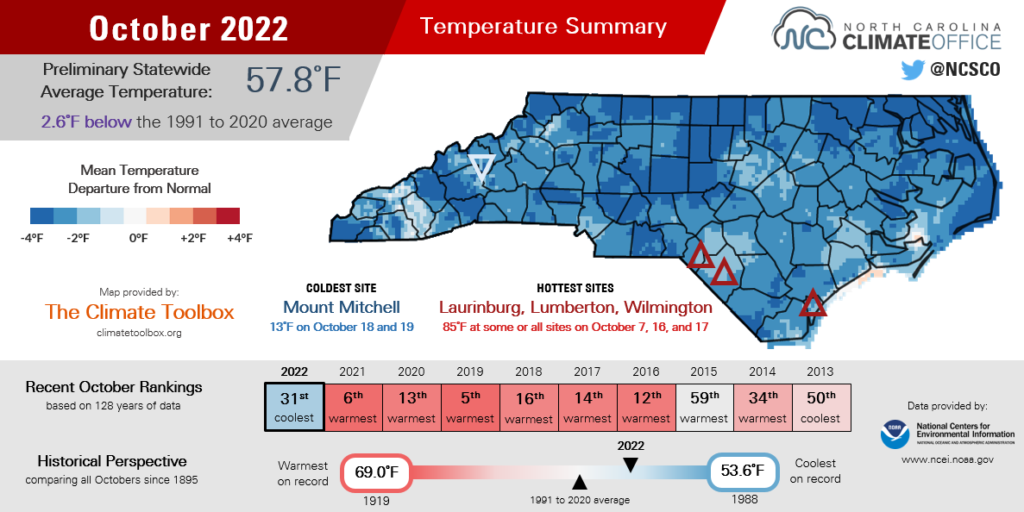 Compared to recent Octobers, which have often felt more like summer than fall, we had fewer oppressive air masses and more cooler, continental ones in control of our weather last month.
Those included the first frigid Canadian high pressure system of the season, which moved in on October 19 and became incredibly familiar with North Carolina. All of North Carolina: Kernersville (low of 31°F on October 20), Salisbury (29°F), you know what I'm saying? Burlington (28°F on two consecutive nights). The cold air has also been to Raleigh, Durham, Greensboro, Charlotte (October 19 lows of 34°F, 33°F, 31°F, and 30°F, respectively).
Even outside of Stephen A. Smith's purview, much of the state saw both their first frost and freeze event of the fall, and an abrupt end to the growing season, on those chilly mid-October nights.
Monroe had its first sub-freezing morning on October 19, a week before the historical average. Snow Hill dropped below freezing on October 20, which was the earliest fall freeze since that station began reporting in 2009. Likewise, our ECONet station in Wallace had its earliest freeze since it was installed in 2008.
Only scattered parts of the eastern Piedmont and southern and central Coastal Plain are still waiting for their first freeze. The climatology indicates that typically happens by the first week of November in Raleigh and Fayetteville, by mid-month in Elizabeth City and Wilmington, and in early December along the Outer Banks.
Good for Leaves, Bad for Drought
The cool, dry conditions throughout October had impacts beyond just frosty flowers. On the positive end, those sunny days and cool nights are exactly the ingredients needed for vivid fall leaf colors to emerge, and this year's foliage did not disappoint.
Since September 23 – the first full day of astronomical fall, and also when our temperatures tumbled to start the season – the average low temperature in Asheville has been 42.5°F. That's 8.5°F cooler than each of the past two years, which saw a delayed leaf color change, and the coolest start to a fall there since 2001.
The Asheville Regional Airport has observed clear skies on 328 daytime hours during that same time period, which is also the most there since 2001. Altogether, that yielded the best and most timely display of fall colors in the Mountains in at least two decades.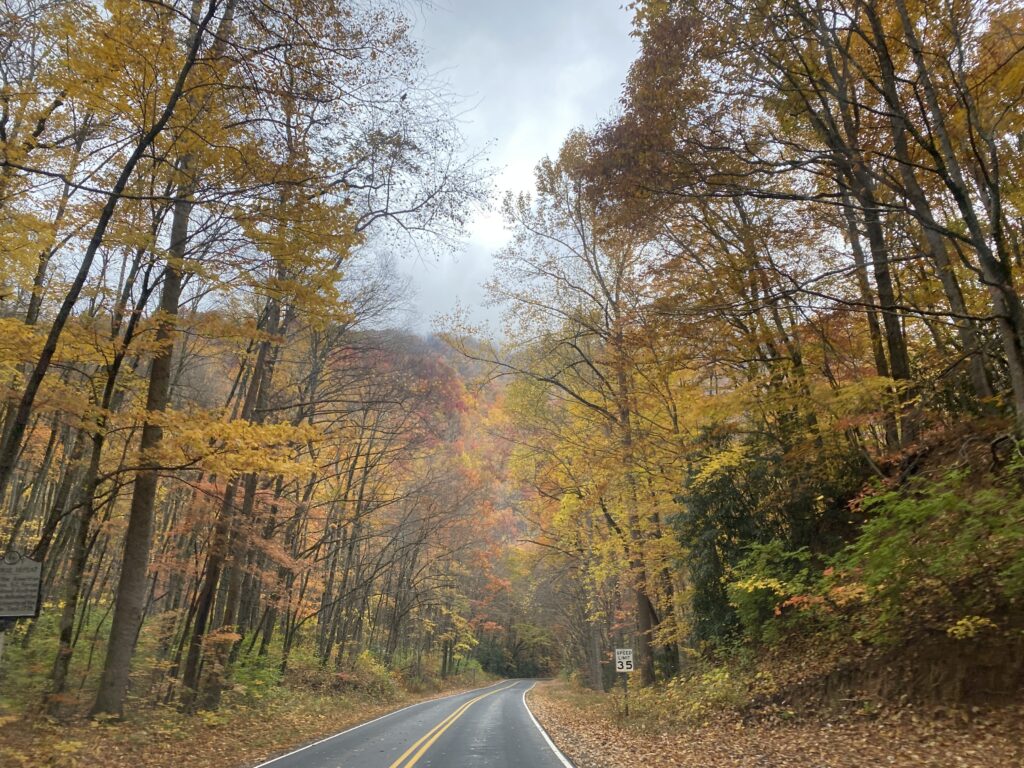 For the glass-half-empty types, the downside of the past month is that some water levels are literally half empty, if not worse in flashy creeks and streams. Amid this ongoing dry fall, more of the state continues to slip into Abnormally Dry and drought conditions.
In the far western Mountains, where little to no rain fell from Ian, the precipitation deficits have been steadily increasing. Following a wet start to September, Murphy saw only an inch of rain in October and is 3.03 inches below normal for the season to date.
Bryson City is in a similar dry stretch, with just 1.09 inches since September 12. That area has slipped into Severe Drought (D2) as monthly average streamflows were below normal in the Great Smoky Mountains.
Elsewhere, Moderate Drought (D1) has even begun to develop in areas that saw decent rain from Ian. Immediately after the storm, Richmond County Extension reported that the 3 inches of rain there helped late-planted soybeans finish developing. This week, much of the Sandhills is officially in drought, and very dry field conditions are forcing farmers to delay planting winter crops such as small grains.
The emergence of this fall's drought shares a remarkably similar timing to last year's. Moderate Drought first appeared on the US Drought Monitor for North Carolina on October 18, compared to October 26 one year ago.
Last fall's drought expanded and intensified during a historically dry November. One of the most noticeable impacts was the increase in wildfire activity, including the 1,000-acre fire burning on Pilot Mountain by Thanksgiving weekend.
Unfortunately, similar activity is possible this year, especially as trees drop their leaves and add to the available dry, dead fuels atop the already dry ground. While the chances of large fires affecting homes, like in the Gatlinburg event from 2016, are generally low, it's never a bad idea to make sure your own home is protected against that risk.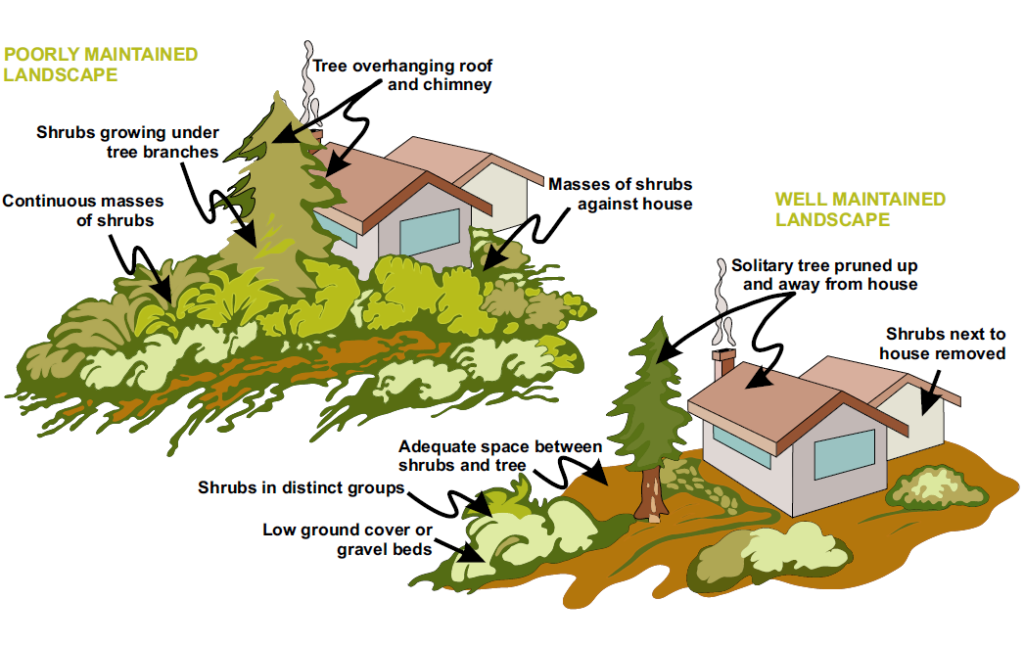 Consider using firewise landscaping, such as keeping flammable materials and shrubbery away from the immediate exterior of your home, and trimming back any vegetation beneath trees that could serve as ladder fuels in the event of a fire.
While we'll hope for a winter drought recovery similar to last year, a dry November outlook and our history from just twelve months ago suggest this drought and its impacts could get worse before they get better.