The remnants of Hurricane Ian crossed the Carolinas on Friday and Saturday, completing the storm's week-long zig-zagging journey through the Caribbean, across Florida, and eventually up the Atlantic coast and inland.
Ian's twisting track, bobbing and weaving from east and west, was the result of its interactions with other non-tropical atmospheric features. Initially, the storm's northward progress through the Gulf of Mexico hit a roadblock in the form of a jet stream trough over the eastern US. That diverted it to the east, and into Florida's west coast at Category-4 strength packing wind gusts of up to 140 mph.
Such a storm is a rare event for that stretch of coastline. Their last direct hit from a hurricane of that intensity came from Charley in 2004. Prior to that, the last landfalling major hurricane between Tampa and Naples was in October 1921.
After crossing Florida and moving over the warm Gulf Stream, Ian regained hurricane strength and made landfall near Georgetown, SC, as a Category-1 on Friday afternoon. The storm's subsequent track to the northwest sent its remnants across North Carolina, and we saw widespread impacts from the coastline to the mountain peaks and everywhere in between.
Ian's Wind and Surge
The combination of Ian's strength and the pressure gradient between its low pressure center and high pressure to our north produced some impressive winds across the state.
Among the 45 weather stations in our ECONet, 19 recorded tropical storm-force gusts of at least 39 mph. Stations in each region of the state measured gusts of more than 50 mph, including 54.28 mph at Mount Mitchell, 52.90 mph at Rocky Mount, and 50.71 mph at Jackson Springs.
At the southern coast, the National Weather Service relayed reports of a 78 mph gust from Oak Island and a 77 mph gust at Federal Point south of Wilmington. Adding to their tumultuous weather, a tornado was even reported in Holden Beach on Friday afternoon.
A wind-driven storm surge reached up to 5 feet high on the Cape Fear River in Wilmington. That was the fifth-highest level on record at that gauge, behind the crests from some of our most infamous hurricanes – Isaias, Florence, Matthew, and Hazel.
As the storm moved inland, power outages peaked at more than 360,000 customers in North Carolina, mainly in the population centers in the Triangle and the Triad. That was a similar peak number as in Isaias from 2020, when up to 369,978 customers were without power.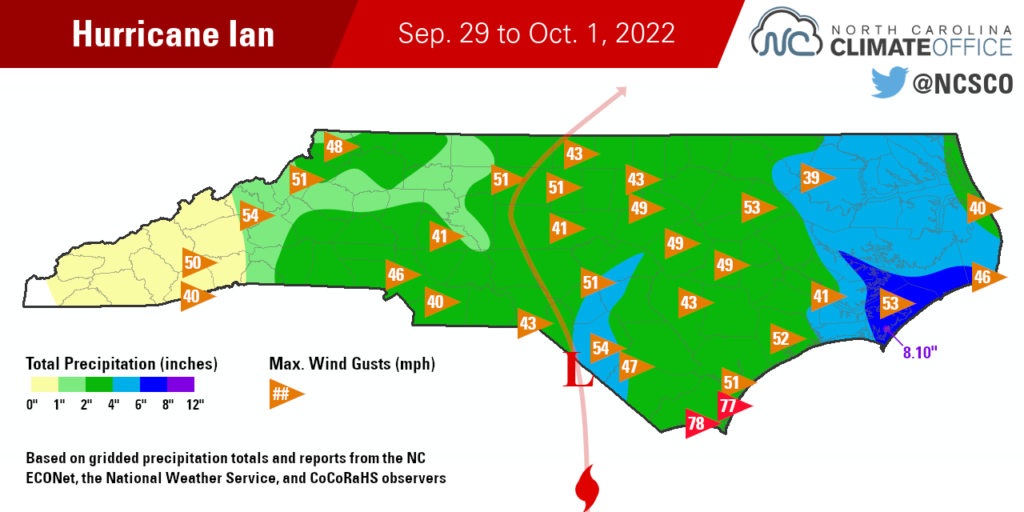 Heavy Rain and its Hazards
Ian's other widespread impact was soaking rainfall that totaled more than two inches in the Piedmont and Coastal Plain, including a swath of more than six inches from Washington to Cape Lookout to Cape Hatteras.
In Carteret County, a CoCoRaHS observer in Williston reported a two-day total of 8.10 inches, and Beaufort received 4.79 inches on Friday alone, which was the greatest single-day rainfall total there since Hurricane Dorian in September 2019.
Tropical storms often toe the line between welcome rain and too much water, and that was certainly the case with Ian. It effectively eliminated seasonal precipitation deficits in places like Elizabeth City – which is now just 0.42 inches below normal since the beginning of July, compared to a 3.78-inch deficit before the storm – and should erode or erase the Moderate Drought in those areas.
But such heavy rain falling over a short period led to localized flooding, and some farmers may take issue with the timing, as harvesting already in progress will likely be delayed with such wet fields in Ian's wake. Extended exposure to moisture can also create concerns for rotted hay and mold development on crops.
The storm is blamed for four deaths in North Carolina: three due to automobile accidents on wet or flooded roads, and another due to carbon monoxide poisoning from a generator running indoors.
A Place in Our Hurricane History
Ian is the latest in a recent string of storms to affect North Carolina after initially making landfall along the Gulf coast. In 2018, Category-5 Hurricane Michael first hit the Florida panhandle and still packed damaging winds when it reached us.
Our state's 2nd-wettest year on record in 2020 included rainfall contributions from the remnants of hurricanes Sally, Beta, Delta, Zeta, and Eta, which all reached us from the Gulf.
And last year, all three storms to affect North Carolina – Claudette in June, Elsa in July, and Fred in August – came in off the Gulf as well.
Of course, Ian made a second landfall on the US east coast just north of Charleston, and its track northwestward from there conjured up some memories of Hugo – albeit at much reduced strength compared to that 1989 major hurricane.
Among historical storms, the one that perhaps comes closest to Ian's track and impacts in North Carolina is Hurricane Bob from July 1985. It also crossed Florida from west to east before making landfall in South Carolina as a Category 1. Most of North Carolina saw rain from that storm, with a three-day total of 7.38 inches in Washington.
That year, Bob was the first, but not the only, hurricane to affect North Carolina. In September 1985, Hurricane Gloria grazed the Outer Banks and brought heavy rains across the eastern part of the state.
So will Ian have a successor this year? Even though the typical peak of activity is already behind us, given the late start to this hurricane season, we can't let our guard down just yet.