The National Hurricane Center is tracking a large hurricane that has developed off the West Coast of Mexico. Hurricane Kay now has winds over 100 mph. It is forecast to move northward and new watches have been issued that extend the potential for Tropical Storm force winds to reach the Southern California border.
This is very unusual as most storms will have lost their power before reaching this far north due to the cold northerly ocean currents that are not conducive to tropical storm development. It is still too early to tell the exact track but many models are showing an unusually close call for San Diego. The storm will have weakened significantly by Saturday (see map below) but has the potential to still be packing winds over 40 knots.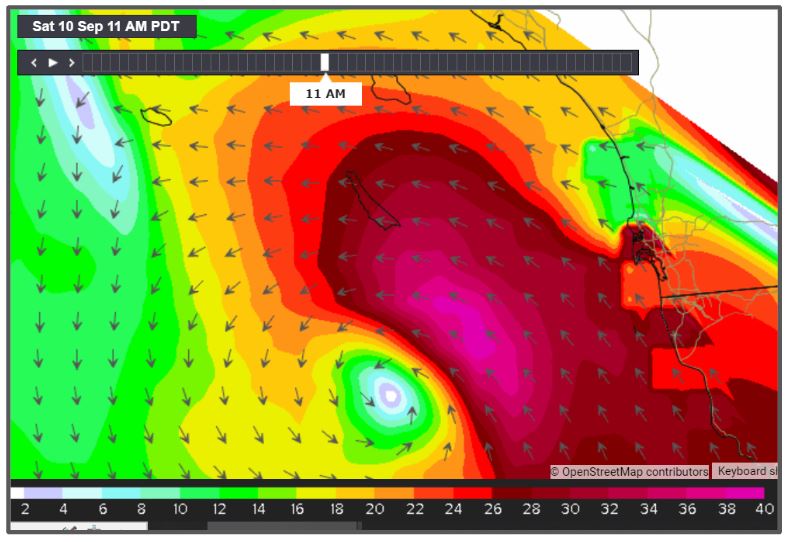 Why such a close call? One reason is that the ocean waters are unusually warm. Not only are temperatures in the Western US reaching record-breaking levels but so are the sea surface temperatures. This season there have been extended periods of Southerly winds pushing into the Southern California Bight. These winds push the warmer water from the south up into the area. I was on Catalina at the start of August and noted just how warm the water was. At the time Hurricane Frank was passing to the west of the island and the southeasterly flow around the perimeter of the storm was bringing a surge of warmer water. The temperature reading at Avalon jumped from the 60s into the 70s in just a few days.
But since August this area has seen many large eddies forming off the California/Northern Mexico coast. These have brought long periods of Southerly flow. This has allowed the water temperatures to continue to warm. San Diego has been registering water temperatures in the 70s for much of August. Now as we start September, SeaTemperature.info is reporting that readings are way above normal and exceeding maximum readings.

Though water temperatures are warm they are not warm enough to support a tropical storm so Kay is expected to start weakening by Thursday. But models are hinting that she may have enough power to bring Tropical Storm force winds very close to Southern California this weekend.