As we approach the Labor Day holiday the concern for Southern California is soaring temperatures. The heat has begun to build over the Western United States as an upper-level ridge of High pressure pushes up toward Canada. I have typed those words many times in my career. While this weekend's heat will bring critical problems to communities, cause records to fall and will last into next week, it is "that" time of the year and this is a typical pattern for Southern California.
I was speaking to my daughter this morning and lamenting the heat. Her quick response was, "It is always hot on my birthday (she just had her birthday). We would always start school and the first few weeks are the hottest of the year." That observation sent me to the record archives and the data proves her observation correct. On average the hottest period for the Los Angeles area is August through September (see graph below). Though in September our daylight hours are shrinking and the angle of the sun is lower, the days are hotter because of a number of factors. One reason is that our primary heat source is the ground and it takes a while for it to heat up and then cool down. So there is a lag between the greatest insolation and the highest temperatures. This happens everywhere. But for Southern California and along the West Coast we also the influence of marine clouds on our temperature cycle. These clouds are so pervasive that we all talk about "May Grey" and "June Gloom". And while those are the most persistent months the coastal marine clouds continue to be a major influence into July and August, keeping temperatures cooler than they would be if we didn't have them lurking around.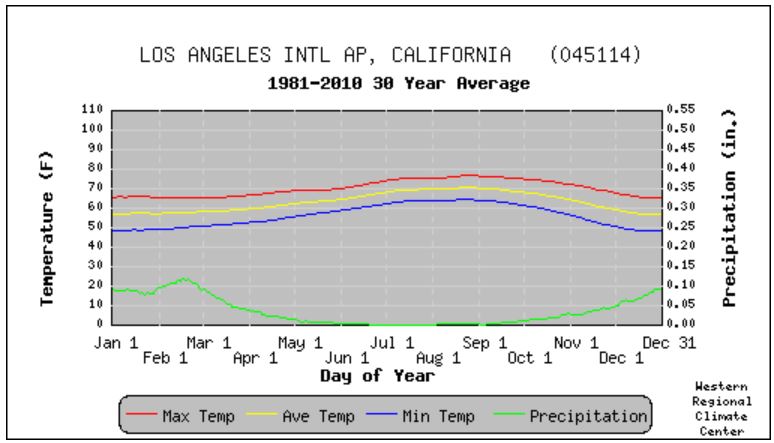 The big question this weekend for wind enthusiasts is just how close the heat will come to the coast. The forecast shows very steep thermal gradients in the California Bight on Saturday afternoon. We won't have the marine clouds to help keep the beaches cool so there will be pockets where the heat moves over the coast and that will shut down the sea breezes. But so far there appears to be just enough onshore flow to keep pockets of solid winds, though they will be late in the day due to eddy conditions.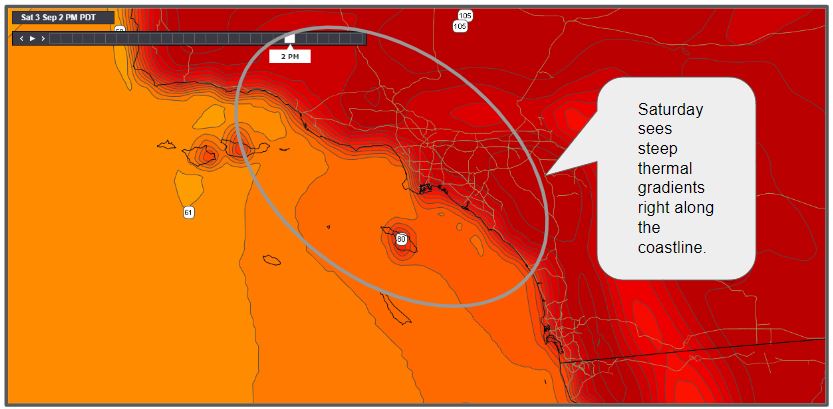 Another wildcard to the wind forecast is the subtropical moisture. As the High grows, the easterly flow around the base will bring subtropical moisture into the deserts and high clouds toward the coast. We saw the first signs of this moisture this morning as a patch of cirrocumulus arrived in the Los Angeles area from the southeast. We will have to keep close tabs on the flow as enough cloud cover can help to hold down the inland temperatures and keep the heat from expanding too far and that would help to bolster sea breeze activity.